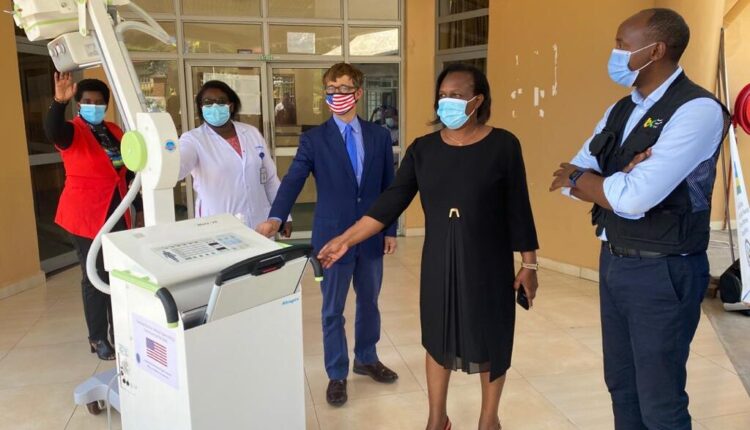 Reading Time:
2
minutes
ADF STAFF
The U.S. government donated a new mobile X-ray machine to Rwanda's Kibuye Referral Hospital in May as the Karongi district experienced a surge of COVID-19 infections.
The new machine, valued at 44 million Rwandan francs ($43,900), is an essential component in the hospital's newly renovated intensive care unit (ICU) because it can help diagnose COVID-19 and other respiratory diseases.
"We are very glad to receive this X-ray machine from the U.S. Embassy, which will help Kibuye Referral Hospital to provide the highest quality of health care services to patients from all over the Western province," said Vestine Mukarutesi, mayor of Karongi district.
The new X-ray machine is the first of several that will be donated to COVID-19 ICUs across Rwanda, the U.S. Embassy in Rwanda said in a news release.
U.S. Ambassador to Rwanda Peter Vrooman and Dr. Sabin Nsanzimana, director general of Rwanda Biomedical Centre, toured the hospital's renovated ICU during a handover ceremony. The U.S. donated six ventilators to support the ICU in Kibuye last year.
"Thank you to the U.S. government," Sabin said. "Not only for the portable X-ray machine, but also for the many other donations. Especially the ventilators; they are helping to save lives."
The U.S. has donated more than 17 billion Rwandan francs (about $20.7 million) to support Rwanda's COVID-19 response since the pandemic began. U.S. donations have helped fund the construction of hand-washing stations across Rwanda, supported public communications about the virus and supplied vehicles to support contact tracing.
The U.S. government also has supplied laboratory diagnostic equipment, patient monitors, hospital beds, personal protective equipment and other items.
"The United States and Rwanda have a strong partnership in public health, and it saves lives," Vrooman said.
Rwanda's response to COVID-19 earned global praise almost from the start. The World Health Organization (WHO) lauded the country's multifaceted, proactive response through medical innovations, creative technology use in treating patients and informing the public..
In early May, Rwandan President Paul Kagame told the WHO that the country was negotiating with COVID-19 vaccine manufacturers to determine how the shots could be produced locally. Kagame said Rwanda wants to produce vaccines using messenger RNA technology, which the Moderna and Pfizer COVID-19 vaccines also use.
Rwanda needs at least 13 million doses of COVID-19 vaccine to immunize 60% of the population — roughly 7.5 million people — by June 2022. Delivery of vaccines from India was delayed by a dramatic uptick in infections there.
The European Union announced during the Global Health Summit in May that it will invest $122.5 billion to build COVID-19 vaccine production hubs in Africa.
Ayoade Alakija, co-chair of the Africa Vaccine Delivery Alliance, told Financial Times that the alliance had three sites in mind for future manufacturing centers in Rwanda, South Africa and the Institut Pasteur in Senegal.