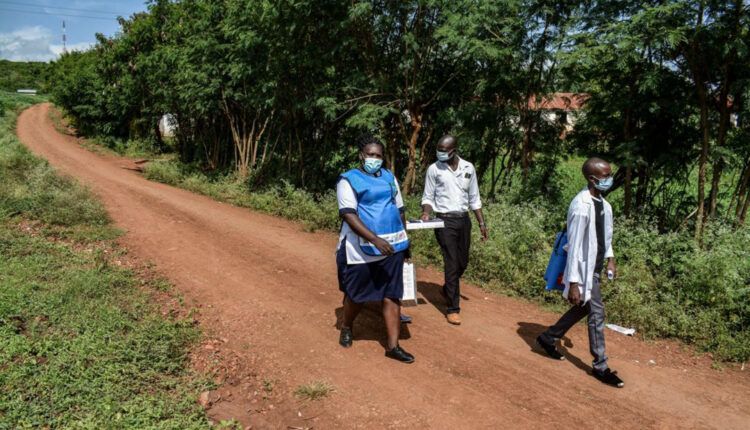 Reading Time:
2
minutes
ADF STAFF
COVID-19 has tested health systems across Africa, and responses to other diseases suffered from diverted resources. But experts say it is important to learn from the pandemic in order to strengthen health systems for the future.
"The coronavirus pandemic has proven once again the importance of investing in health systems, enhancing equitable access to care and improving readiness to prevent and control outbreaks," Dr. Matshidiso Moeti, Africa director for the World Health Organization (WHO), said during a virtual regional meeting in August 2020. "Recovering from this pandemic will be incomplete without strong measures to bolster health systems. We must seize the opportunity and make the leap for a better tomorrow."
Despite the tragic loss of life and other hardships, the pandemic has offered unique learning opportunities for health care systems in Africa. No two countries are the same, but overall, there is resilience, resourcefulness and leadership on the continent.
Dr. John Nkengasong, director of the Africa Centres for Disease Control and Prevention (Africa CDC), has earned praise for his leadership, striking compassionate tones at home, while fiercely advocating for Africa on the global stage.
Nkengasong recently ranked fourth on a list of the "world's 50 greatest leaders" by Fortune magazine, which wrote: "He helped to steer Africa's 54 nations into an alliance that — thanks to measures that included closing country borders early on and instituting national curfews and mask mandates — has weathered the COVID crisis."
Although Nkengasong insists there is a tremendous amount of work to be done to conquer the virus, the Africa CDC has announced a number of initiatives to boost the continent's public health awareness and education, vaccine production, vaccine trial participation, and other social measures.
The Africa Task Force for Coronavirus has been meeting weekly since February 2020 with seven working groups focused on improving capabilities such as laboratory diagnosis, viral subtyping, case management, surveillance, risk communication, infection prevention and control, supply-chain management, and scientific standards.
"Africa is seizing this opportunity to build up its public-health preparedness and response infrastructure at every level — continental, regional, national and local," Nkengasong wrote for the journal Nature.
Access to health care is a major challenge for all Africans, specifically the 60% who live in rural areas. There are not enough health centers, and those in existence lack equipment, staff and basic supplies.
One of the great hopes for the future of health care delivery, however, is taking root in Africa, just as it has worldwide: online care.
Venture capital has been pouring into African health tech companies. Despite the pandemic, investors raised about $97 million in the first half of 2020, according to U.S.-based investment company Partech. That was on track to exceed the $189 million raised in 2019 and far ahead of the $20 million invested in 2018.
According to a WHO Africa study, 12.8% of technologies developed worldwide in response to the pandemic come from Africa. Telemedicine, drone delivery and solar electrification of rural and remote clinics are but a few of the potentially transformational endeavors underway.
The WHO Africa director emphasized how the pandemic has made it clear that better health care systems are needed to confront this pandemic and the next, as well as more common illnesses such as malaria, HIV, measles and malnutrition.
To do this, Moeti said, Africa must keep working to improve supply chains, invest in community health workers and increase levels of all vaccinations.
"We must reinforce our health systems to better withstand future shocks," she said. "A strong health system is the bedrock for emergency preparedness and response."