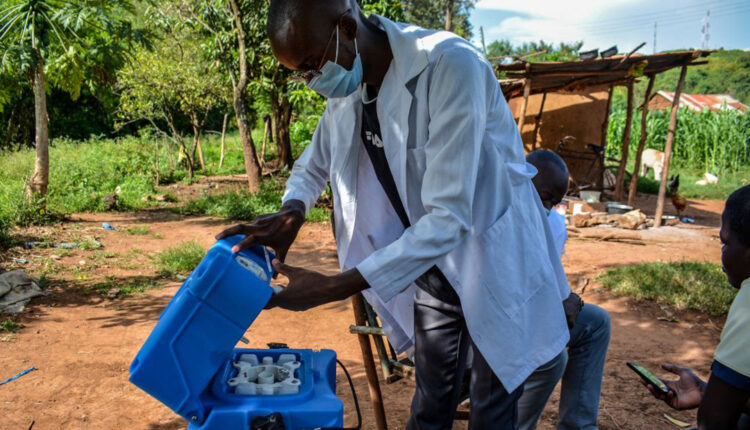 Reading Time:
3
minutes
ADF STAFF
In a country facing challenges in delivering COVID-19 vaccines, western Kenya has become particularly problematic. The city of Kisumu, on the shore of Lake Victoria, has passed the capital, Nairobi, as having the country's highest number of confirmed infections.
In rural parts of the region, people can travel to metropolitan areas for shots, but supplies are so limited they risk returning empty-handed. Now, some health care workers are tackling that problem by walking from village to village as part of a vaccination drive.
"It is hard for us to leave the village to reach the hospital because we don't have money to travel, and sometimes we don't have time," Leah Okada, a vaccine recipient in Nyambare village, told Agence France-Presse. "So, they have really done us a great favor and helped to make things easier for us here."
Harriet Awuor, a nurse from Siaya County Hospital, told the news agency that over the course of two days in mid-May, she and other health care workers administered about 350 doses and were planning to continue traveling to more villages in the coming days.
Kisumu County Health Minister Boaz Otieno said the COVID-19 surge in his region was the result of relaxing the restrictions in Nairobi and the surrounding areas. President Uhuru Kenyatta had restricted people's movements in Nairobi and other regions in late March of this year but eased the lockdown a month later.
"There was an inevitable rebound influx," Otieno said, as reported by Voice of America (VOA). "Generally, there is a lot of traffic between Kisumu, Nakuru and Nairobi. So, if you confine people and then you release, the tendency is people to kind of rebound and go back home."
Kenya's vaccination drive has been progressing at a slower pace than expected due to the lack of a sufficient number of doses. As of late May, Kenya had vaccinated less than 2% of its population.
The country began vaccinations in March, after it got 1 million doses of vaccine from India. Since that time, India has been devastated by COVID-19 and can no longer supply vaccines to other countries until it gets its own citizens protected.
Kenya and other countries on the continent have been relying on vaccines from the global vaccine sharing initiative, COVAX, which in turn relied on the Serum Institute of India, the world's largest vaccine manufacturer. Now, because of the crisis in India, the institute says it will be unable to ship vaccines to other countries until the end of 2021.
Without vaccines from India, Kenya is struggling to find new suppliers. One unlikely source is the Democratic Republic of the Congo, which proved to lack the infrastructure to properly dispense 150,000 doses before they expired in June. Those doses were forwarded to Kenya.
South Sudan also shipped vaccine doses to Kenya when it was unable to administer them to its own people. The country had received 132,000 doses from COVAX in late March but was able to administer only a small fraction before they would expire. Kenya ended up getting a consignment of 72,000 doses that South Sudan returned to the COVAX facility.
The unexpected doses address only a fraction of the country's needs, with its population of more than 52 million.
Willis Akhwale, who heads Kenya's vaccine task force, said he remains optimistic that his country will get the vaccines it needs.
"The future is good," he told VOA. "We only have this period of May and June and maybe part of early July that we may have a challenge. We want to vaccinate more people. We want to make sure all adult Kenyans are vaccinated by the end of next June. That's our target, and we are putting systems and structures in place to ensure that immediately a steady supply of vaccines starts coming through. Then, we will do very intense mass vaccinations of Kenyans."