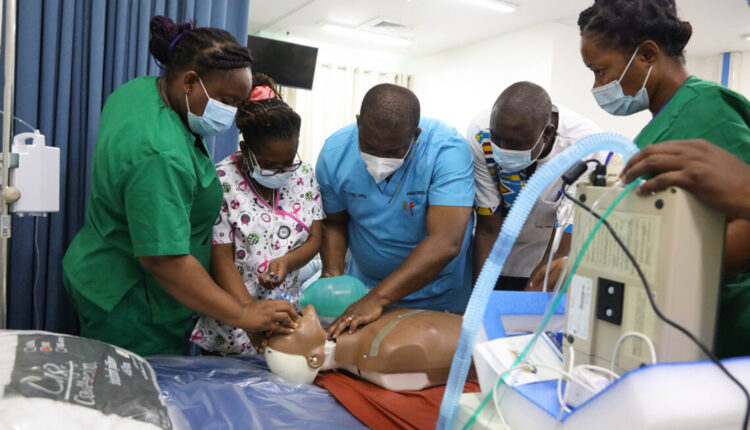 Reading Time:
2
minutes
ADF STAFF
Ghana has finished the first phase of a United States-led COVID-19 critical case management training program at the Ghana Infectious Disease Center.
The U.S. Agency for International Development (USAID) program, which trained 86 Ghanaian clinicians, focused on oxygen therapy, mechanical ventilation, airway management, pulse oximetry, blood pressure monitoring and chest tube insertion.
The program also established critical care hubs in all of Ghana's regional hospitals to ease the stress on facilities during a surge in COVID-19 cases. The second phase of training will start soon, the U.S. Embassy in Ghana said in May.
"We look forward to our upcoming support to cascade this training to the district level in target regions, so lower levels in the health system can also benefit from this important training," said Dr. Stephen Dzisi, USAID Ghana's acting health office director.
U.S. officials completed the initial phase as Ghana prepared to begin the second phase of its COVID-19 vaccination campaign, which aims to inoculate 360,000 people in 43 districts — 25 in the Greater Accra Region, 16 in Ashanti and two in the Central Region, according to Ghana's Graphic Online.
Dr. Patrick Kuma-Aboagye, director-general of the Ghana Health Service, said there was higher-than-expected demand for the shots and issues with an online appointment system.
"We will continue to feed the population with information on when and where to go," Kuma-Aboagye told Graphic Online. "We will also try to make sure that the vaccination appointment system is improved."
The U.S. has helped bolster Ghana's COVID-19 response from the early days of the pandemic.
U.S. donations include two state-of-the-art level II field hospitals to a treatment facility run by Ghana Armed Forces in Accra and a cache of medical supplies as COVID-19 cases surged in June and August 2020.
U.S. Africa Command also has conducted tactical combat casualty care training, medical readiness exercises and pandemic response conferences.
Ghana was the first country to use drones from U.S. company Zipline to deliver COVID-19 testing kits shortly after the first cases were reported in the nation. The drones fly samples collected from more than 1,000 health facilities in rural areas to laboratories in Accra and Kumasi, Reuters reported.
The nation now uses Zipline drones to deliver COVID-19 vaccines. Up to 2.5 million doses are expected to be delivered to remote vaccination sites. Zipline is supported by Gavi, the Vaccine Alliance; the UPS Foundation; and other organizations.
"With every dose [of COVID-19 vaccine] being so important, it is critical to ensure that our partner countries have the necessary support and tools to deliver vaccines effectively and efficiently to those who need them," Dr. Seth Berkley, CEO of Gavi, the Vaccine Alliance, said on its website.