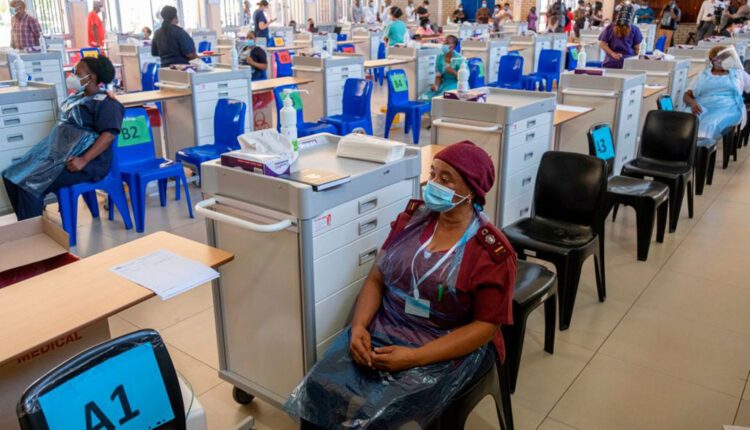 Reading Time:
3
minutes
ADF STAFF
As African nations roll out COVID-19 vaccinations, public health teams are not getting shots into arms as quickly as had been hoped. As a result, several countries now face the prospect of destroying tens of thousands of unused vaccine doses that are past their expiration dates.
Malawi and South Sudan are two countries where medical staffs say they will destroy out-of-date vaccines, despite pleas from the Africa Centres for Disease Control and Prevention (Africa CDC) to continue to use the doses.
"My appeal to member states is: If we are doing our part to mobilize these vaccines, you do your part and use the vaccines," Africa CDC Director John Nkengasong said at a briefing.
The Serum Institute of India, which produced the vaccines, recently issued a three-month extension on the original April 13 expiration date based on an analysis of the vaccines' continued effectiveness. Nkengasong has said the institute told him that doses might be viable up to nine months beyond their expiration date.
The World Health Organization's Africa Regional Office has urged countries to store vaccines — not destroy them — if they have a concern about the expiration date.
So far, Malawi has distributed less than half of the 500,000 doses it received from COVAX, the global initiative to provide vaccines equitably. Of those, 16,000 will be destroyed. In South Sudan, nearly 60,000 doses have been set aside to be destroyed.
Sierra Leone's health minister, Austin Demby, has said his country expects up to one-third of its 96,000 doses to go unused before their expiration date. Demby said people are less concerned with COVID-19 than they are with Ebola. They're also suspicious of the vaccine process.
"People are worried this is another public experiment they want to make on our people," Demby told The Associated Press.
Nkengasong said at his April 29 briefing that the Democratic Republic of the Congo had returned 1.3 million doses to the international COVAX facility for redistribution because the country's health officials would not be able to distribute them before they expired.
Many of the expiring vaccine doses originally were sent to South Africa, which transferred them to the African Union for redistribution after a study suggested they would be less effective against the variant dominating infections in the country.
A combination of misinformation, disinformation and mistrust of government has led some people to shun vaccine shots. The continent's low caseload and death counts compared to other parts of the world also have convinced many people that COVID-19 is not serious.
Across the continent, countries vary widely in their success at getting shots into arms. Morocco, for example, has used 82% of its vaccine supply while Ethiopia has used just 6.3%, Nkengasong said.
Further complicating matters, India's own huge wave of COVID-19 infections and deaths, driven by the B.1.617 COVID-19 variant, prompted the Serum Institute to pause vaccine exports to Africa in mid-April.
"We find ourselves in a very dicey situation with respect to vaccines," Nkengasong said.
Up to 400 million Johnson & Johnson doses are scheduled to arrive in Africa, but not until the third quarter of the year, he said.
The Africa CDC director worries that the continent might find itself confronting an India-like wave of infections and deaths if public health officials are unable to push ahead with vaccinations.
"We, as a continent, must be very, very prepared," he said. "What's happening in India can happen here."
He urged Africans to continue to follow preventive steps such as masking, hand-washing and physically distancing as much as possible.
Meanwhile, Malawi Health Equity Network Director George Jobe told Global Citizen he is disappointed that his country has fallen short on its vaccination plan and will waste vaccines it so desperately needs.
"In the country, especially in rural areas, people are still clinging to the negative information about the vaccine," he said. "We should remember that there has been misinformation on the vaccine, and now we have experienced the danger of such messages."