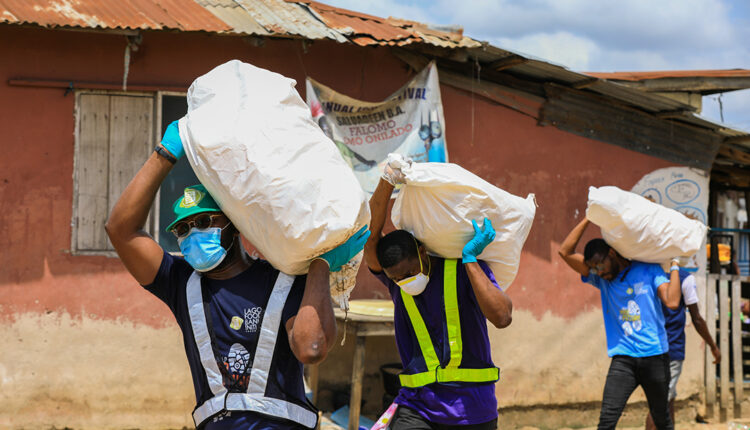 Reading Time:
2
minutes
ADF STAFF
There is a growing hunger crisis in Nigeria, and the COVID-19 pandemic has only made it worse.
That's why the United States Agency for International Development (USAID) launched the COVID-19 Food Security Challenge on April 12.
The initiative will grant $3 million in funding and technical assistance to two categories of companies already working in food production, processing or distribution: youth-led companies (up to age 29) and midstage companies with at least 1,000 customers.
The idea behind the challenge is to support innovators in fighting food insecurity, USAID Mission Director Anne Patterson said in a statement.
"This assistance encourages private sector-led solutions to boost food production, processing and create market linkage along the agriculture value chain in a sustainable way across Nigeria," she said.
The challenge, which is accepting applications until May 9, will grant 15 to 25 youth-led companies up to $75,000 each and award 10 to 15 midstage companies up to $150,000 each to rapidly expand operations, help mitigate the effects of COVID-19 on Nigeria's food chain and boost the resilience of vulnerable households.
"The pandemic has significantly disrupted already-fragile value chains across the country, including people's ability to produce, process and distribute food," USAID said. "The disruption to agricultural productivity and markets has a knock-on negative impact on livelihoods, especially among the most vulnerable households."
With the largest population in Africa, Nigeria also is home to the continent's biggest economy. But about 40% of the more than 206 million Nigerians live in poverty, conditions that result in disillusioned young people and allow for recruitment by Islamic extremist organizations.
"Households in the northeast worst-affected by the Boko Haram conflict continue to engage in limited livelihood activities, are mainly dependent on humanitarian food assistance, and have limited income-earning opportunities," according to the February situation report by USAID's Famine Early Warning Systems Network.
"Households, mainly in parts of Borno State, which remain in areas that are inaccessible to humanitarian actors and consume wild foods with little to no food stocks, are facing large food consumption gaps and are in [a state of food security] emergency."
In October 2020, the United Nations Food and Agriculture Organization and its World Food Programme raised their highest alert for urgent humanitarian action in northern Nigeria due to famine risk. The groups warned that 13 million people could face acute food insecurity later this summer if food aid and support are not increased.
In a March 10 study published in African Development Review, two social science professors from Obafemi Awolowo University in Ile‐Ife, Nigeria, examined the food security of their country's households during the pandemic.
"Statistics showed that only 12% of the households were food secure, 5% were mildly food insecure, 24.5% were moderately food insecure and over half of the households (58.5%) experienced severe food insecurity," wrote Cleopatra Oluseye Ibukun and Abayomi Ayinla Adebayo.
"The Nigerian government and other development agencies need to provide more support or grants to households (particularly those with low socioeconomic status) so as to minimize the shock and aid the recovery of household food security during and post COVID‐19."
USAID's Food Security Challenge aims to be part of the solution.