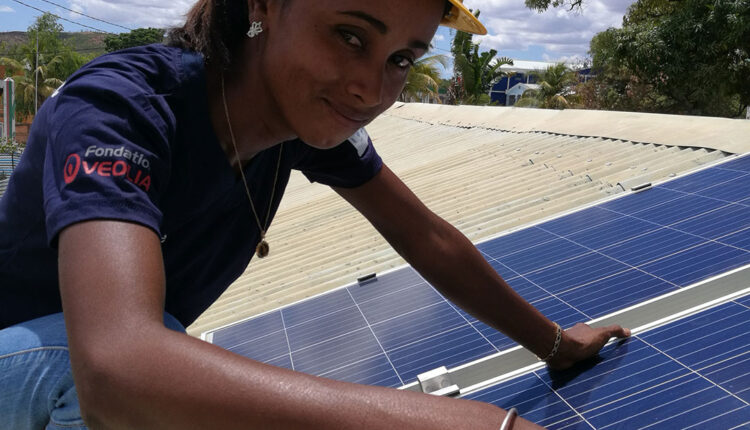 Reading Time:
3
minutes
ADF STAFF
Underneath her hard hat, a soft shine of perspiration appeared on Beatrice Razafimaitso's forehead as she installed a solar panel perched on a hot metal roof.
Working in the Madagascar sun is demanding, but it's hard to get the smile off her face these days.
It was difficult to get a job last year when the pandemic struck. What she found — a U.S.-funded program that trained her to build and operate small solar electrical grids — has been life-changing.
"I wanted to be independent," the 31-year-old told ADF. "I also wanted to learn new skills and participate in the development of my region."
In Razafimaitso's country of more than 27 million people, only 6.5% of rural households have access to electricity. That number drops below 5% in northeast Madagascar, where she works.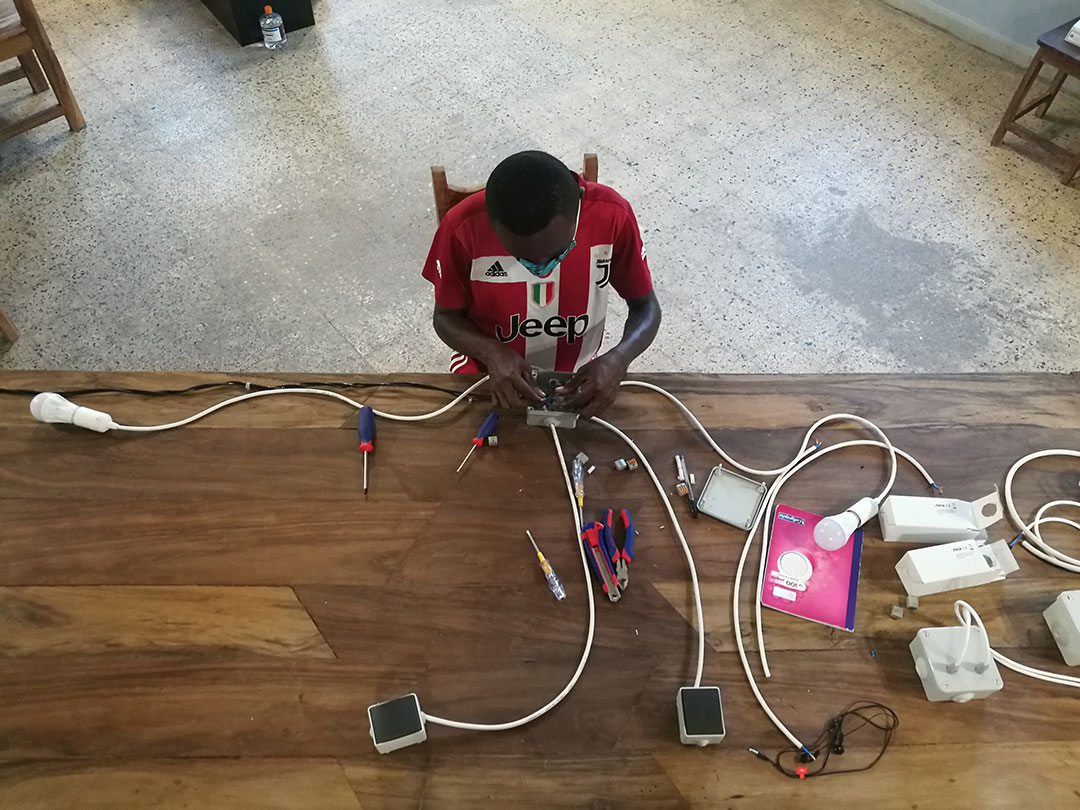 She is one of 13 members of the community trained to be solar entrepreneurs by Nanoé, a French-Malagasy social enterprise that received a $240,000 grant from the U.S. Agency for International Development (USAID) in October 2020 to electrify 35 rural health clinics that serve 140,000 people.
"We are very excited about the impact this USAID/Power Africa grant will have on the local community," Nanoé co-founder Nicolas Saincy said in a news release. "As a social enterprise, having an impact is the first objective, above our profits."
The U.S. Embassy reported on March 26 that 10 of the 35 clinics now have solar systems installed, drastically improving basic health care services and helping combat COVID-19.
"When rural communities don't have access to electricity there are dire consequences in terms of both economic development and health outcomes," USAID Mission Director John Dunlop said in a news release. "Energy is critical for powering essential medical devices, including sterilization and diagnostics equipment, cold storage for vaccines and medication, information technology, and lights so doctors can provide urgent care at any time of the day or night."
The project is part of a $2.6 million initiative called Power Africa Off-Grid, which is working to electrify 300 health clinics in nine countries across Sub-Saharan Africa.
In Madagascar, the grants are part of the U.S. government's $3 million plan to increase energy production and electricity access. Since 2018, this initiative has helped more than 57,000 people gain access to electricity. The 2022 goal is to provide electricity to more than 400,000 people.
The goal of Power Africa, a U.S. government-led initiative coordinated by USAID, is to double access to electricity in Sub-Saharan Africa by 2030.
Last year in Madagascar, USAID and Power Africa split a $1.2 million grant among three Malagasy companies to develop mini-grids that are bringing electricity to more than 5,200 rural homes and businesses.
Grants such as these bring light to previously unserved or underserved areas. They also bring light to people like Razafimaitso.
"I am financially independent," she said, reflecting with a smile. "I feel a sense of freedom because I can make my own decisions. I am also proud to have gained technical skills in solar power that are needed and rare in the region, especially among women."