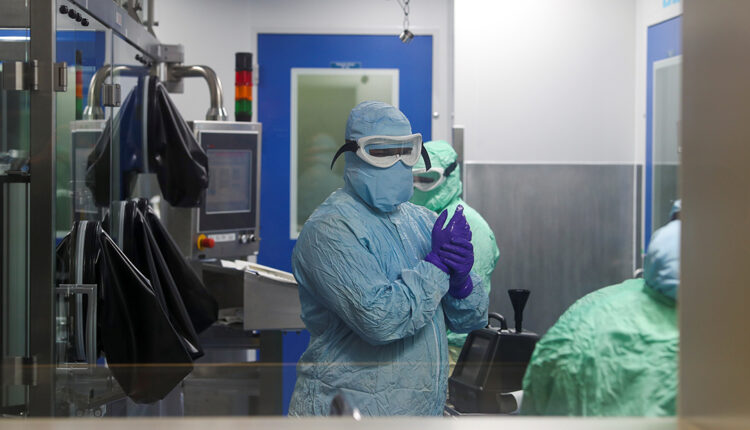 Reading Time:
2
minutes
ADF STAFF
As African countries compete for access to vaccines in the global marketplace, there is an increasing emphasis on the need for self-reliance.
"Africa needs to be able to meet its own needs for vaccines," Dr. Tedros Adhanom Ghebreyesus, World Health Organization director-general, said during a panel discussion on March 23. "That means financing, local manufacturing capacity, comprehensive regulation and sustainable supply chains."
Although its 1.3 billion people represent 16% of the world's population, Africa has less than 0.1% of the world's vaccine production, he noted.
Only five countries — Egypt, Morocco, Senegal, South Africa and Tunisia — have the capacity to make vaccines, according to Dr. John Nkengasong, director of the Africa Centres for Disease Control and Prevention (Africa CDC).
There have been just more than 3.3 million confirmed cases of COVID-19 on the continent since the pandemic began, according to Africa CDC statistics through March 29.
Health care workers had administered more than 10 million doses of vaccine across Africa as of March 29, according to University of Oxford statistics. More than half of Africa's 54 nations have not begun vaccination campaigns.
The Africa CDC is taking the lead on building local solutions.
The organization will lead a virtual conference on April 12 and 13 between the African Union and external partners to create a "vision and roadmap to accelerating African vaccine manufacturing."
"We know that vaccines are the fundamental underpinning of the health security on the continent, and we have to invest in that," Nkengasong said to the panel. "If we do not do this, we will move towards the endemicity of this virus on the continent and will have devastating effects going forward."
Some recent developments point in the right direction.
South Africa's Aspen Pharmaceuticals, the continent's largest drugmaker, has invested more than $200 million to upgrade one of its four manufacturing and packaging plants in the country. That has resulted in a contract to manufacture up to 300 million doses of Johnson & Johnson's one-dose COVID-19 vaccine by the end of June.
Although most of that supply will be returned to J&J for global export, the government has signed a deal for 11 million doses with an option for another 20 million as the company's worldwide supply allows.
South Africa's state-backed BioVac Institute also is moving into start-to-finish vaccine manufacturing and has a contract with United States-based ImmunityBio, which is conducting phase 1 trials of its COVID-19 vaccine in South Africa and the U.S.
On March 22, the Nigerian government announced the development of two COVID-19 vaccines, which await clinical trials and certification.
"This is a welcome development that will open a new vista in scientific breakthrough and will boost the morale and image of the medical industry in the country," Boss Mustapha, chairman of the presidential task force on COVID-19, told reporters.
Africa still has much more capacity to unlock, Tedros said.
He is putting pressure on the world's largest pharmaceutical companies to expand production by licensing vaccine technology and reducing patent barriers in cases of emergency.
"The fact is, we are not taking advantage of existing manufacturing capacity," he said. "Production badly needs to be scaled up.
"To overcome this bottleneck, companies should share intellectual property, know-how and data with other qualified vaccine manufacturers, including in Africa."