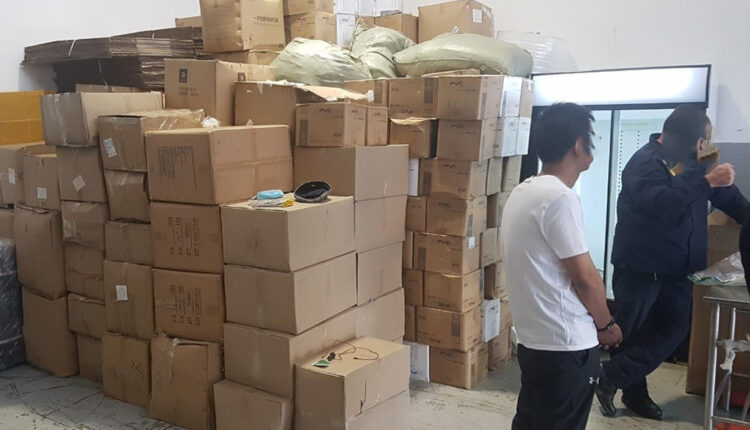 Reading Time:
2
minutes
ADF STAFF
South African police recently broke up a criminal ring attempting to distribute thousands of doses of fake COVID-19 vaccine.
Police arrested four people — three Chinese and one Zambian — at a warehouse in Germiston, Gauteng province. That's where authorities found up to 2,400 doses of the fake vaccine along with a large number of fake 3M protective masks.
Chinese authorities arrested another 80 people at a factory in China that produced the fake vaccines. Authorities discovered an additional 3,000 fake vaccine doses there.
The arrests came about three weeks after South Africa began vaccinations nationwide.
Brigadier Vish Naidoo, national spokesperson for the South African Police Service, said the arrests demonstrated its multidisciplinary approach to policing and the power of international cooperation to stop the spread of potentially harmful materials.
The Illicit Goods and Global Health Programme of Interpol, the international police organization, supported the investigation. Interpol issued a global alert at the end of 2020 warning law enforcement to look out for organized-crime networks targeting COVID-19 vaccines.
"This, together with our association with counterparts from all Interpol member countries, is proving to be very effective as we have seen in the arrests for foreign nationals attempting to peddle fake vaccines to unsuspecting people within South Africa," Naidoo said.
No country in Africa sells COVID-19 vaccines online. Law enforcement authorities described the arrests in Germiston as "the tip of the iceberg" and warned that people buying vaccines offered online are placing themselves at risk.
The Africa Centres for Disease Control and Prevention and the World Health Organization have launched major efforts to acquire millions of doses of COVID-19 vaccines this year. The first of those vaccines began arriving on the continent at the end of January.
A continentwide survey by the Africa CDC found strong support for taking a COVID-19 vaccine when one is available as long as it has been proven safe and effective.
African nations have a chronic problem with the distribution of fake medications. By one estimate, almost 20% of all medicines on the continent are counterfeit, either doing nothing to help or harming those who take them. Between 64,000 and 158,000 people die each year in sub-Saharan Africa due to fake or ineffective anti-malarial drugs, according to a report by the South Africa-based Institute for Security Studies and Interpol.
The problem of fake medicines began almost as soon the coronavirus reached Africa. In April 2020, counterfeit chloroquine, a much-touted possible remedy to the COVID-19, was circulating in Cameroon, Chad and Nigeria. Around the same time, Ugandan police arrested a father and daughter who were giving people fake COVID-19 vaccine months before the real vaccines were released. Criminals have also tried to sell fake tests, protective masks and hand sanitizer.
To avoid fake medications, public health officials recommend buying only from reputable pharmacies. Medicines sold in open-air markets at cut-rate prices are often fake. They also urge people to pay close attention to the drugs and their packaging: Any defects, missing details such as expiration dates or broken seals can mean the medications are counterfeit.