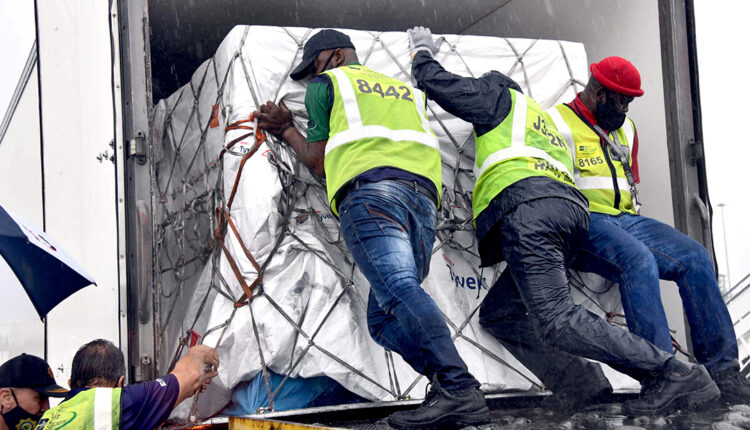 Reading Time:
3
minutes
ADF STAFF
On January 31, television stations broadcast live images of cargo boxes being unloaded from a plane containing South Africa's first doses of COVID-19 vaccines.
The delivery of 1 million doses of the AstraZeneca vaccine landed at O.R. Tambo International Airport, the first step in the plan by the Africa Centres for Disease Control and Prevention (Africa CDC) to vaccinate 60% of Africa's 1.3 billion people against COVID-19 in the coming years.
"Now that there are approved vaccines, Africa CDC is exploring every available option to make sure that Africa isn't left behind in access of COVID-19 vaccine," Dr. John Nkengasong, director of the Africa CDC, wrote as part of celebrating the organization's fourth anniversary.
In a survey of 15,000 Africans by the Africa CDC and London School of Hygiene and Tropical Medicine, 79% of respondents said they will take a COVID-19 vaccine that is safe and effective.
That last word — "effective" — could have the biggest impact on plans to achieve continentwide COVID-19 immunity through vaccinations. There are several reasons:
Vaccines train the body to fight the virus, but some are better at that than others.
Mutations that create variants of the virus can reduce vaccines' power to neutralize it.
Real-world conditions differ from the controlled conditions of drug trials and lab tests.
What is efficacy?
Trials determine how well a vaccine prevents disease — its efficacy. Researchers give volunteers either the vaccine or a placebo, then wait for them to get sick. Comparing the rate at which vaccinated people get sick to the rate for unvaccinated people determines the vaccine's efficacy.
The clinical trial included more than 43,600 volunteers, with half receiving the vaccine and the other half receiving a placebo saline shot. The researchers tested how many people in each group got COVID-19. Out of the 170 COVID-19 cases, 162 were in the placebo group, and eight were in the vaccine group. That means 95% of those who got the vaccine stayed healthy.
A vaccine's efficacy is not the same as its effectiveness, which tends to be lower in the real world. That's because many factors, such as population genetics, underlying health problems, missed doses, and even storage and distribution problems can reduce how well a vaccine works outside the lab.
In the past month, African officials have announced that they have secured nearly 700 million doses of vaccines. The continent also is set to receive 600 million doses from the COVAX facility, which was established to help middle- and low-income countries vaccinate their citizens.
Those vaccines vary widely in their success against COVID-19. Pfizer and Moderna are more than 95% effective. China's Sinovac, by comparison, has proven 50% effective in Brazil. Russia claims 92% efficacy for its Sputnik V vaccine but has not published its trial protocols for scientific review.
The vaccines also vary widely in how many doses are needed, how they trigger the body's immune response, and how well they work against mild or severe cases. All those differences can change the way vaccines work in the human body.
Impact of variants
Public health experts are watching closely as more contagious variants of COVID-19 spread across Africa. As variants spread, the continent's fatality rate has begun to increase, Nkengasong reported at a January 28 press conference.
Many variants show changes to the virus's spike protein, the tool it uses to penetrate a cell. That's a concern because the two most successful vaccines to date — Pfizer and Moderna — both train the body to recognize that protein.
As the protein changes, the vaccines could eventually become less effective against it. That's the case for Novavax, which is 89% effective against the primary COVID-19 virus, but only 60% effective against the South African variant. Pfizer and Moderna have created booster shots to improve their vaccines' response to the South Africa variant.
"The vaccine is a light at the end of the tunnel. It is a massive advance. But it doesn't answer — and it won't address — every question that we have," Dr. Michael Ryan, executive director of the World Health Organization's (WHO's) Health Emergencies Program, said during a mid-January press conference. "We have got to get more efficient at fighting the virus."
That's why public health officials continue to emphasize the need for masks, hand-washing and social distancing to limit spread.
"We're collectively not succeeding at breaking the chain for transmission at the community level or within households," said Dr. Tedros Adhanom Ghebreyesus of Ethiopia, WHO director-general. "The more the virus is suppressed, the less opportunity it has to mutate."