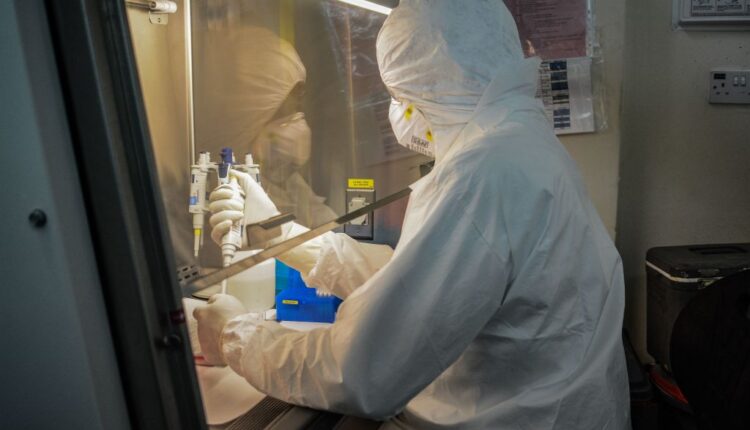 Reading Time:
2
minutes
ADF STAFF
Kenyan researchers say they have discovered a new variant of the COVID-19 virus in samples taken from Taita Taveta County in the southeast.
They say the variant is unique to Kenya and has not turned up in other countries so far. The announcement makes Kenya the latest African country to identify variants, after South Africa and Nigeria.
Variants are driving the second wave of infections sweeping the continent. Infections rose 50% between the end of December 2020 and the end of January 2021, according to the World Health Organization.
The WHO is helping countries boost their abilities to detect and respond to new variants, shipping samples to sequencing laboratories and providing supplies and technical guidance.
According to the Africa Centres for Disease Control and Prevention, Africa reported more than 3.5 million cases as of the end of January — a number that has more than tripled since August 2020. Nearly 89,000 Africans have died from COVID-19 since the pandemic began a year ago.
Investigators at the Kenya Medical Research Institute discovered the new variant as part of sequencing samples taken from eight counties.
According to Dr. Charles Agoti, who led the research team, the variant was present in the majority of samples taken in Taita Taveta County, suggesting it is spreading easily there. The variant has just one change in its genetic code, compared to more than half a dozen in the South African and Nigerian variants.
Agoti told The Nation that it is too soon to say with certainty how the new variant will affect the spread of COVID-19 in Kenya. More tests are needed.
The limited number of genetic changes means the Kenyan variant should respond to current vaccines, Agoti told Bloomberg.
Because researchers have sequenced virus samples from less than a fifth of Kenya's 47 counties, it is hard to know how widespread the new variant is, Agoti said.
Moses Masika, a virologist at the University of Nairobi, told Nigeria-based News Central TV in late January that just half of 1% of Kenya's positive COVID-19 cases have been sequenced for study.
"The number that has been sequenced — 500 out of 100,000 — is not sufficient to say we know all the variants in the country," Masika said.
Variants happen naturally as a virus replicates and moves through a population. Each replication creates the chance for mutations in the virus's genetic code. Some mutations make no difference; others can create new strains that are immune to vaccines. Monitoring variants helps medical experts react quickly to changes.
Coronaviruses such as the one that causes COVID-19 mutate quickly because they tend to make changes in their genetics as they replicate in an infected host cell.
Barring a fully vaccinated population, public health experts continue to stress nonmedical activities such as masks, hand-washing and social distancing as the best way to limit the spread of the virus. Doing that also limits its potential to create more variants.
"Africa is at a crossroads. We must stick to our guns and double down on the tactics we know work so well," Dr. Matshidiso Moeti, the WHO's regional director for Africa, said in a statement. "Countless lives depend on it."
As Africa prepares to distribute millions of doses of vaccines in the coming months, Masika said countries need to put more money into sequencing virus samples to track the spread of variants.
"This helps us to stay ahead, to let us know if the vaccines we are planning to give our people even are working," Masika said.