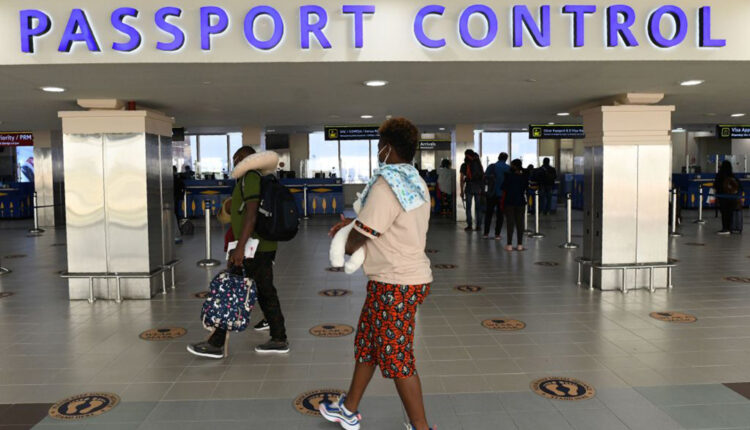 Reading Time:
2
minutes
ADF STAFF
Kenya's government has launched a digital platform that can quickly verify COVID-19 test results of people traveling into and out of the country, a move meant to ease travel hassles and reduce the chances of spreading the virus across borders.
Known as Trusted Travel, the platform is based on an Africa Centres for Disease Control and Prevention (Africa CDC) initiative. It lets travelers upload their COVID-19 test results online for easy verification by health and travel officials at busy ports. The documents previously were presented on paper and could be forged.
Kenya is the first African country to use the platform.
"As our economies, schools and borders reopen, Africa needs a harmonized approach to reduce the risk of COVID-19 transmission," Amira Elfadil Mohammed Elfadil, the African Union's commissioner for social affairs, said on the Africa CDC's website.
On a recent business trip to Kenya, Antonia Filmer of the United Kingdom said the platform enabled her to get her luggage and exit Jomo Kenyatta International Airport in Nairobi in about 15 minutes.
Writing in The Sunday Guardian, an Indian newspaper, Filmer said she arrived with a negative U.K. COVID-19 test and had completed Kenya's Travelers Health Surveillance Form, which gives travelers a QR code, a type of barcode. Authorities scanned the code at the airport and took her temperature. At immigration counters, she simply showed her visa and her trip was underway.
Under Kenya's revised regulations, travelers entering the country must have a negative COVID-19 test within 96 hours of departure and self-quarantine for a week after arrival. A second test is to be repeated seven days after arrival.
The platform was developed using international standards of cyber security and data protection protocols, according to the Africa CDC. It also provides information on travel requirements at ports and offers a list of government-approved laboratories for COVID-19 testing in African countries.
No Kenyan laboratory will issue COVID-19 certificates without Trusted Travel codes, The East African reported.
"We are in a critical phase of the pandemic," Dr. John Nkengasong, director of the Africa CDC, said on the center's website. "As economies reopen and travels resume, we must pay attention to the prevention of transmission, prevention of deaths and prevention of harm by carefully and cautiously opening our borders. The Trusted Travel portal is the tool that Member States need to help them open safely."
Other countries expected to begin using Trusted Travel in its first phase of adoption include Cabo Verde, Côte d'Ivoire, Egypt, Ethiopia, Ghana, Liberia, Morocco, Namibia, Rwanda, Senegal, South Africa, Togo and Uganda, allafrica.com reported.
Officials unveiled the platform in early January, less than two weeks before Kenyan scientists discovered a new COVID-19 strain in Taita Taveta County in southeastern Kenya. It is different from variants found in South Africa and the U.K.
"The virus carrying this change seems to have caused quite a significant number of infections in Taita. We have not seen this variant anywhere else in the world," Charles Agoti, a researcher at Kenya Medical Research Institute, told Uganda's Daily Monitor.
Kenya expects to get its first batch of COVID-19 vaccines by late February and plans to inoculate 16 million of its roughly 53 million people by June 2022, Health Secretary Mutahi Kagwe said in a statement.
The country will receive 24 million doses of AstraZeneca, Pfizer and Johnson & Johnson vaccines through COVAX, the global distribution plan, and will buy another 11 million shots through other means.