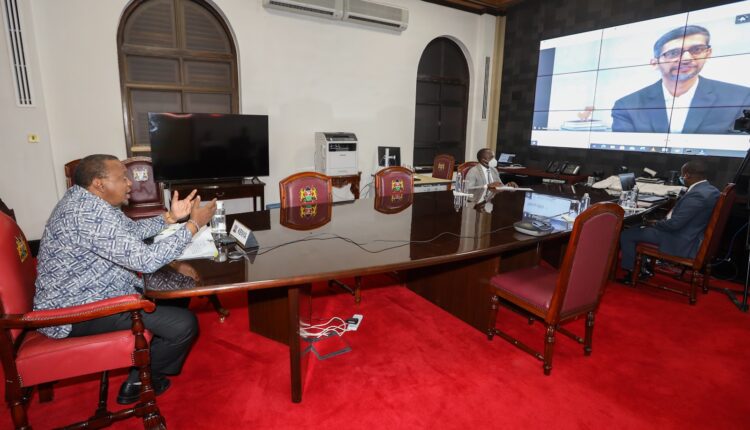 Reading Time:
2
minutes
ADF STAFF
At a time when countries are seeing their economies upended and preparing for a post-COVID recovery, Kenya is in the midst of a digital transformation.
The nation is home to the second-highest number of technology hubs on the continent behind South Africa, and President Uhuru Kenyatta is staking the future on digital technologies to create jobs and improve public services.
Tech giant Google is championing the effort.
The United States company announced January 27 that it is committing $10 million to boost Kenya's economy and help it transition to one that is based more on technology.
"We started our journey almost two decades ago to try and start moving into the digital world," Kenyatta said to Google CEO Sundar Pichai in an online public meeting. "You have been a good part of that journey, a journey that has enabled many Kenyans through the use of technology and digitization to access financial services, knowledge and to enhance their business capacities."
The $10 million package breaks down to:
$5 million to support Kenyan tech startups.
$3 million in small business loans.
$2 million to local nonprofits from Google.org, the charitable arm of the company, to help underserved communities recover from the pandemic.
In September 2020, Google announced a number of initiatives to support African businesses, teachers and students.
In the January virtual meeting, Pichai noted plans to expand its Google for Startups Accelerator Africa initiative this year by supporting 100,000 Kenyan businesses and 15,000 developers. Kenya is one of 17 countries accepted in the three-month program in which participants can access Google mentors, products and practices. Twenty Kenyan tech companies already have graduated.
The CEO also said the company plans to train 29,000 students and 1,800 teachers on its remote learning Google Classroom platform. The company says it already has trained 2,000 Kenyan educators since launching the endeavor in September 2020.
"By 2030, digital transformation could unlock $74 billion in economic impact in Kenya through policies that enable the full utilization of digital technologies," Google said in a statement.
Kenyatta outlined his ambition to continue expanding internet penetration and translate it into a technology-powered economy.
"Today as we speak, as a result of digitization, technology and internet penetration, almost 95% of all Kenyans have access to financial services as opposed to less than 20 years ago when only 25% of the population had a bank account," he said.
Calling his country "one of the startup capitals of the African continent," Kenyatta said the country will achieve the vision of a digital economy by linking small and medium enterprises (SMEs) with expanding global markets.
"We want to work together, partnering with American companies and American companies partnering with Kenyan SMEs," he said. "This is where the true growth potential exists so that the facilitative work we have done is actually now leapfrogged upon by the opportunities created by the linkages that we can establish."