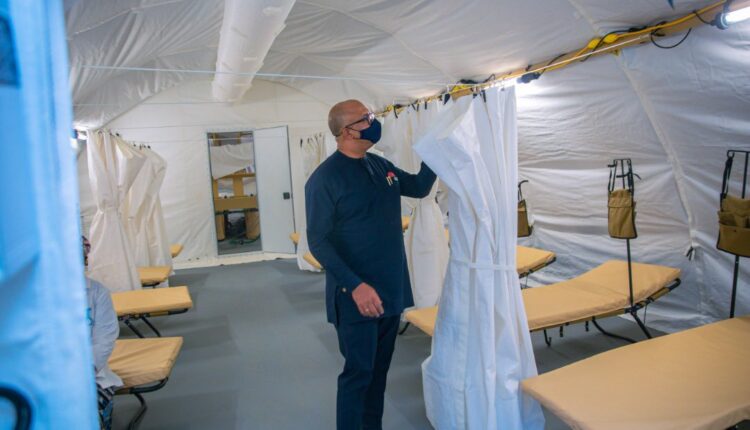 Reading Time:
3
minutes
ADF STAFF
The U.S. has donated a $1.3 million field hospital to bolster Nigeria's battle against COVID-19.
Located at the Federal Medical Center in Abuja, the field hospital includes four negative-pressure isolation facilities that can house up to 40 patients, an auxiliary generator, beds, showers, lavatories and equipment. Its negative-pressure rooms ensure that patients in any condition receive medical care, including surgeries, without risk of contaminated air flowing out.
The hospital was manufactured by Alaska Structures and assembled in Abuja by an all-Nigerian team.
"This will help us in so many ways — testing, isolating, holding and, of course, treatment," Nigerian Health Minister Adeleke Olorunnimbe Mamora told Nigeria's TVC News. "Virtually all of the hospitals have been filled up."
The field hospital can be used for treating patients with infectious diseases other than COVID-19, Saad Ahmed, chief medical director at the Federal Medical Centre, told the station.
Since the pandemic started, the U.S. has donated more than $73 million toward Nigeria's COVID-19 prevention efforts, including donations of 200 ventilators, epidemiological COVID-19 detection surveys, technical assistance and service plans.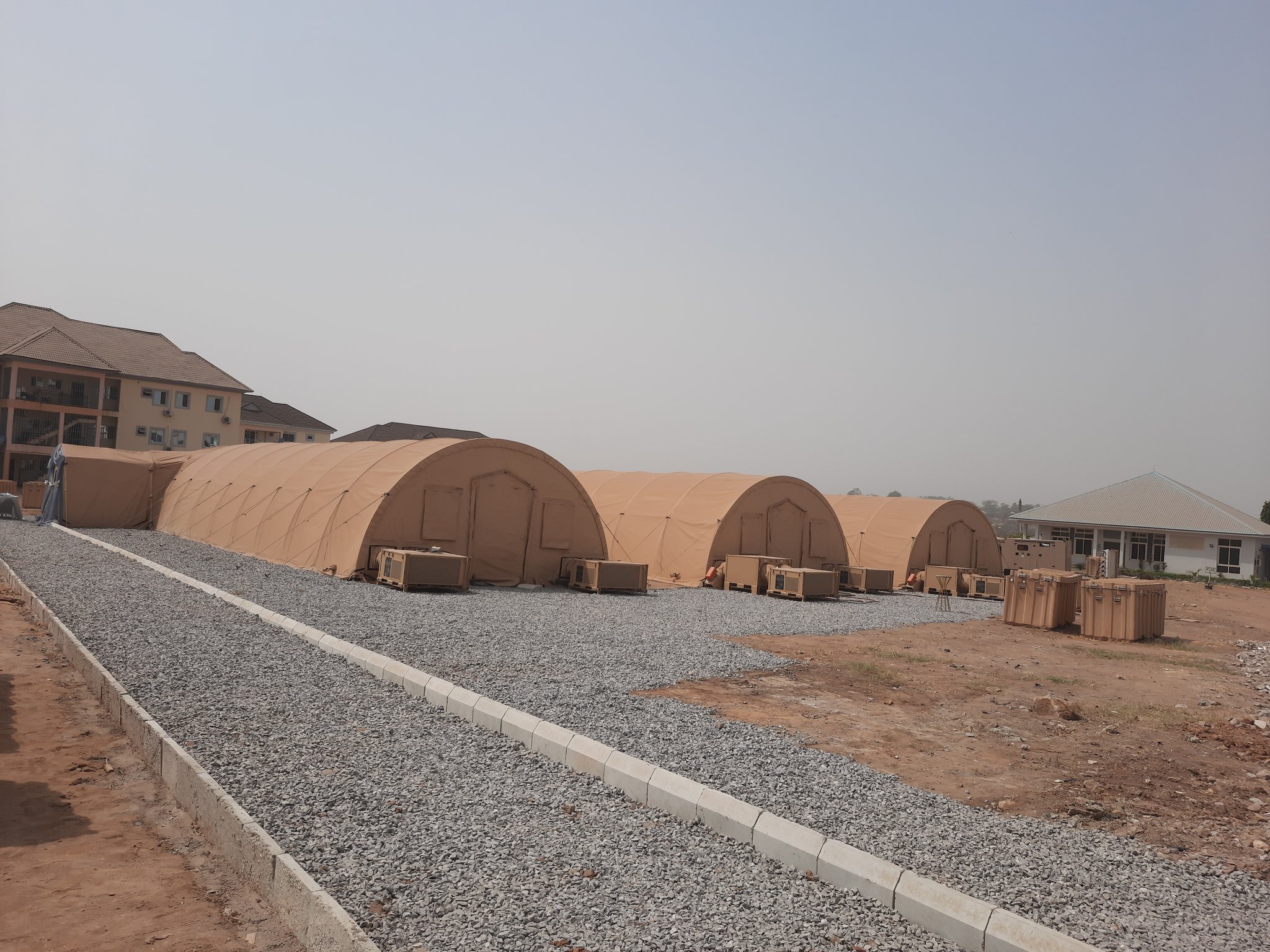 "Supporting the health care workers who are caring for patients at this facility and across the country is critical to Nigeria's effort to slow the spread of COVID-19," U.S. Ambassador to Nigeria Mary Beth Leonard said during a handover ceremony. She added that the U.S. will continue to support Nigeria's efforts to safely isolate and treat confirmed COVID-19 patients.
The U.S. delivered the hospital in January as Nigeria struggled to contain a second wave of infections and health officials studied a new virus strain.
"The variants discovered in the U.K. and South Africa, they are distinctly different from the variants discovered in Nigeria," virologist Sunday Omilabu, director of the Center of Human and Zoonotic Virology at the Lagos University Hospital of Medicine and Teaching College, told The Associated Press.
Omilabu worried that Nigerians were getting complacent about using preventive measures to contain the virus. He said the second strain appears to be more transmissible than the earlier version and that patients are experiencing more severe symptoms.
"People still go and party," Omilabu said. "They still go to the club and without putting on face masks. We talk about social distancing; people are not respecting that. We talk of using face masks; people are not doing that. You see them in the marketplaces; they are not doing that. So how do you now control it?"
The second wave and new variant coincided with a rise in infections among the nation's health care workers. More than800 such workers were infected with the virus between June 2020 and early February, Anadolu Agency reported. At least 20 doctors died from COVID-19 during one week in January, according to the Nigerian Medical Association.
With a population of 200 million people, Nigeria hopes to receive 41 million COVID-19 vaccine doses from the African Union by April. Health officials plan to inoculate 40% of the population this year and another 30% in 2022. The 41 million vaccines are produced by AstraZeneca, Johnson & Johnson and Pfizer, Reuters reported.
In February, Nigerian officials approved a $17 million project to build 38 oxygen plants, which will increase access to oxygen for those suffering from severe COVID-19 symptoms. This and other investments in health infrastructure are giving officials optimism that Nigeria can emerge from the pandemic stronger and better prepared to battle infectious diseases.
"COVID-19 has taken so much from us. The past year has been the most defining for our health security," said Dr. Chikwe Ihekweazu, director-general of the Nigeria Centre for Disease Control. "However, it is an opportunity for Nigeria to build back better."