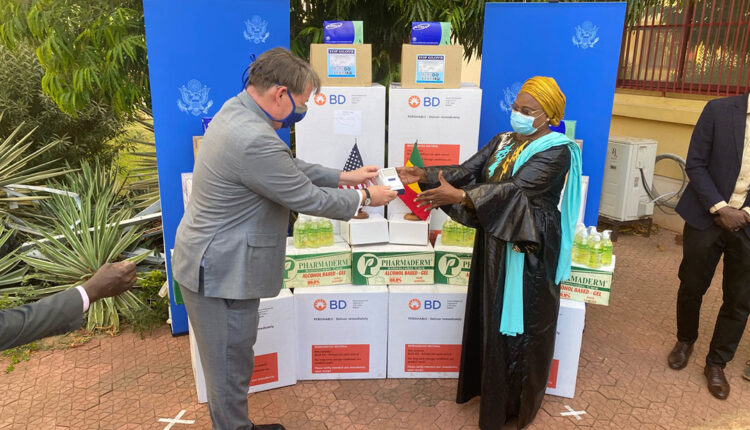 Reading Time:
2
minutes
ADF STAFF
While the COVID-19 pandemic raged throughout the world in 2020, Mali dealt with internal unrest that included a military coup.
Speaking on behalf of the transitional government, Dr. Fanta Siby credited the United States with helping to ensure that COVID-19 did not spread out of control in the midst of the multiple challenges.
Siby, Mali's minister of Health and Social Development, met with U.S. Ambassador David Hankins on January 19 to receive a cache of medical supplies to help the country fight the pandemic.
The supplies included 1,800 rapid test kits, two test analyzers, 5,000 medical gloves and 120 vials of hydroalcoholic gel.
"They have been with us from the start of this pandemic," she said of the U.S. "This donation, which will be used in prevention, diagnosis and treatment, will help save lives."
A simmering brew of crises — a protracted extremist insurgency, a foundering economy and reports of government corruption — boiled over last summer when protesters took to the streets. In August 2020, the country had its second military coup in less than a decade.
Since the pandemic hit in March, Mali has recorded 7,983 COVID-19 cases and 323 deaths, according to the Africa Centres for Disease Control and Prevention's January 24 statistics. The country of more than 20 million people has administered just 169,358 tests.
"The epidemic has been increasing lately," Siby said. "We rely on all partners to strengthen our capacity in preventing and addressing this pandemic. We salute the embassy, government and all the American people for this gesture and all the previous gestures."
The January donation by the U.S. Department of Defense adds to the more than $13 million already provided by the U.S. Agency for International Development, the U.S. Centers for Disease Control and Prevention, the National Institutes of Health, and the U.S. State Department.
Previous donations were used to build testing capacity at hospitals and laboratories, to bolster detection and prevention efforts at airports and border crossings, to improve hygiene and sanitation, to combat rumors and disinformation with a call center, to finance mobile clinics, and the training and mobilization of community surveillance and emergency response teams.
"The United States has supported Mali's COVID-19 response efforts since the early hours of the discovery of the pandemic, and we will continue to do so," Hankins said at the donation ceremony. "The health sector is a top priority of our assistance, and we spare no efforts in this area."
He also praised the abilities and professionalism of Mali's health care workers.
"They are the ones who work every day to save the sick," he said. "That is what has enabled Mali to cope well with this crisis."