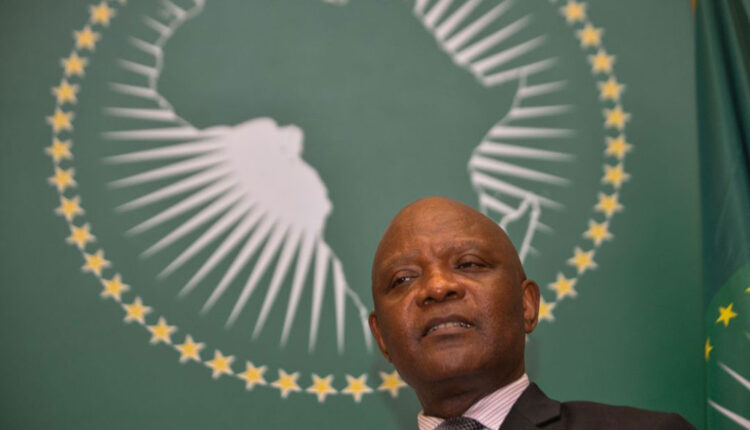 In 'Unprecedented Times,' Africa CDC Director Shines
Reading Time:
3
minutes
ADF STAFF
Dr. John Nkengasong has won acclaim as the face of Africa's fight against COVID-19. Now, the director of the Africa Centres for Disease Control and Prevention (Africa CDC) faces, perhaps, his toughest challenge as he pushes for access to vaccines.
His goal is for 60% of the continent's 1.3 billion people to be vaccinated in the next two to three years, and he does not want Africans to wait for access to this lifesaving cure.
"It should not occur sequentially where the developed world gets vaccines, then Africa and the developing world get vaccines after that," he told ADF in an interview to be published early in 2021. "It's going to be extremely important to highlight the global solidarity and the oneness of the planet that we live on."
Nkengasong rose to prominence fighting other viruses. He was acting deputy principal director of the Centre for Global Health at the United States Centers for Disease Control and Prevention. While at the U.S. CDC, he helped lead the organization's laboratory research to combat HIV/AIDS and tuberculosis.
Then the Africa CDC was created in 2016, and it needed a leader. After an exhaustive international search, the unanimous choice was Nkengasong, the Cameroon-born veteran virologist.
"His experience, expansive knowledge in public health in Africa, and vision for the future made him the ideal choice as the pioneer director of Africa CDC," Olawale I. Maiyegun, director of the Department of Social Affairs at the African Union Commission, said in the announcement.
No one could have known how crucial Nkengasong's experience with viruses would be just a couple of years later when the deadly COVID-19 pandemic swept across the globe.
COVID-19 had infected 2,511,368 Africans and killed 59,354 as of December 20, according to the Africa CDC. It also has caused devastating poverty and hunger.
There were plenty of predictions that the virus would overwhelm Africa's health care system and kill millions. Instead, Nkengasong and the AU have responded by creating platforms to leverage the continent's buying power to acquire protective gear and tests. The Africa CDC has pushed for a "whole-of-Africa" approach through which the continent coordinates its response as much as possible.
"The first cases of COVID-19 were reported in Egypt on February 14, and on February 22 we convened a meeting in Addis Ababa with all the ministers of health," he told ADF. "It was the first time we could rally more than 40 ministers of health and agree on a joint continental strategy. It is through that strategy that the platforms and mechanisms have been supported and endorsed."
Nkengasong was recognized in September by the Gates Foundation, which bestowed its Global Goalkeeper Award and called him a "relentless proponent of global collaboration and evidence-based public health practices, and a champion for minimizing the social and economic consequences of COVID-19 across the African continent."
Although he cuts an imposing figure, Nkengasong's easy smile and affable optimism complement the seriousness with which he carries himself.
He is intensely focused on his organization and its work, but his pride in how Africa and its people have responded is undeniable.
"I remain hopeful that behind every crisis there is a silver lining," he said. "As we say, 'You don't waste any crisis' in terms of advancing innovations, and we don't want to wait until the next crisis before looking to innovation. This should create the space for technological advancement and also the local manufacturing of drugs and vaccines."
As the challenge of fighting the war against COVID-19 moves into a new phase, Nkengasong faces the daunting mission of deploying the vaccine.
"The crisis is unprecedented, and we have to have unprecedented strategies to allow us to reach 60%," he said. "This target is informed by science, informed by knowledge from other infectious diseases."