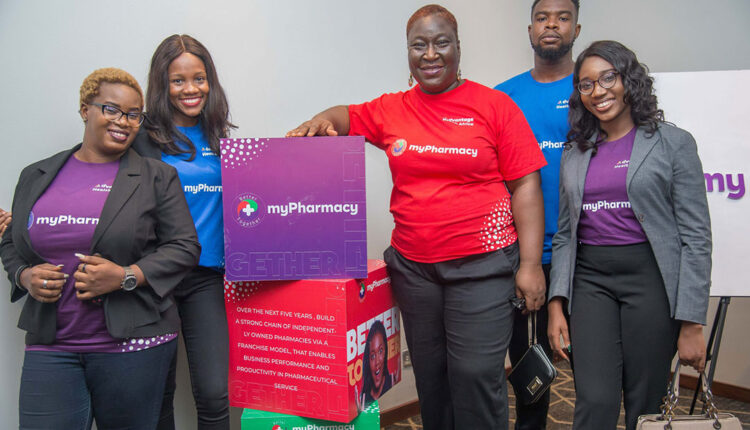 Nigerian Entrepreneur Links Pharmacies for Drug Safety
Reading Time:
2
minutes
ADF STAFF
When they feel sick, many Nigerians head straight to the pharmacy. But West Africa's long history of counterfeit medications means the help people seek may cause them harm instead.
That's where Abimbola Adebakin and her company, Advantage Health Africa, come into play.
A pharmacist by training, Adebakin has spent the past few years developing ways to connect Nigeria's pharmacies through online platforms. The goal is to make it easier for Nigerians to access medications they know are safe and affordable.
"Counterfeit medicines will not thrive where there is good supply. A counterfeiter loves to see a situation where there is insufficient access to supply," Adebakin, CEO of Advantage Health Africa, told Business Africa. "Our solution is an indirect manner to curb counterfeiting. It also increases the quality of life of people when they know the medicine they've been prescribed they can get."
Nigeria's National Agency for Food, Drug Administration and Control has worked to reduce the amount of fake drugs circulating in the country. But the demand for COVID-19 treatments has brought the problem back in force, Dr. Kingsley Chiedu Amibor, national chairman of the Association of Hospital and Administrative Pharmacists in Nigeria, told The Guardian newspaper.
Adebakin sees Advantage Health Africa as a way to block fake pharmaceuticals. The company combines Adebakin's original online pharmaceutical markets, my-medicines.com and myPharmacy.com, while working with health maintenance organizations to improve access to pharmacies.
The company works with pharmacies in six of Nigeria's most populous states and has begun making connections with individual pharmacies in less-populated areas.
West Africa is a global hotbed for counterfeit pharmaceuticals. The fake medications turn up in markets where their low cost appeals to people desperate for a cure. But illicit ingredients and questionable pill quality can threaten the lives of those who take them.
Adebakin said that she is focused on meeting the needs of Nigeria's poor and underserved by raising the quality and affordability of health care.
"The access to affordable quality health care across Africa is so low, it's so poor," she told "Developing Your A-Game" podcast. "Anyone operating in the sector tends to feel the pain of the end users."
Adebakin's company reviews its member pharmacies to make sure they meet its standards for quality and safety. Customers can access the pharmacy network by text, online and Smartphone apps such as What'sApp.
"We're very particular about the sourcing. We're very particular about reliability and about safety," Adebakin told Enterprise Television. "All of the pharmacies are licensed. That means they stand a risk of losing their license to practice if they're found wanting. That's a big deal."
Bringing together pharmacies from across the country benefits pharmacies and customers: Pharmacies get a larger market for their products; customers get greater access to drugs they need –– either locally or in another community.
That broad-based access helps weed out counterfeit drugs by increasing the supply of high-quality medicines. Advantage Health Africa works with individual pharmacies and the national postal service to make sure the drugs reach people in time.
The lockdown that came after the COVID-19 pandemic made Adebakin's business more essential than ever.
"We've had huge demand and huge uptake because people are at home and they need medicine, and we're the ones who get it to them in an efficient, reliable manner," she told "Developing Your A-Game." "In COVID situations, many people are not going into pharmacies. We are bringing orders to them. So, we are increasing [pharmacies'] access to markets."