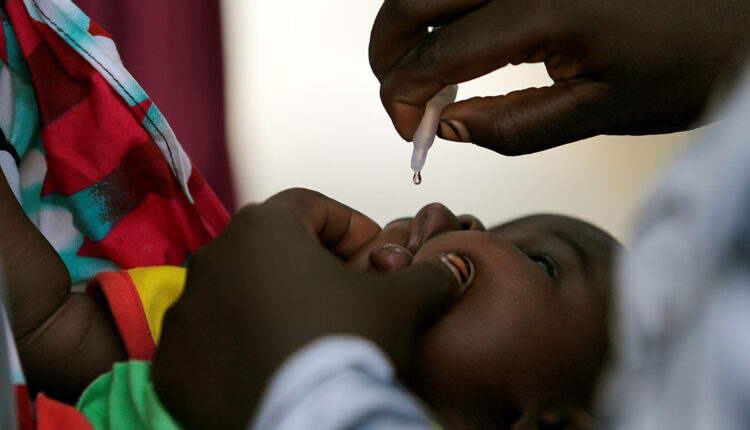 In COVID-19 Fight, Africa Looks to Lessons from Polio
Reading Time:
3
minutes
ADF STAFF
African nations recently celebrated the eradication of the wild polio virus on the continent, a victory that offers guidance for bringing the ongoing COVID-19 pandemic under control.
"It is a vivid reminder that vaccines work and that the collective actions of communities, governments, and partners can bring about tremendous changes," Dr. Matshidiso Moeti, the World Health Organization's (WHO) regional director for Africa, said while announcing the news about polio in August.
This summer's announcement was an event 32 years in the making. In 1988, the World Health Assembly set a goal of erasing wild polio worldwide. The public-private project that followed drew together the world's top medical experts, government agencies and nongovernmental organizations. Since 1996, Africa has received more than 9 billion doses of polio vaccine.
Nigerian President Muhammadu Buhari urged African nations to use their experience beating polio to inspire their fight against COVID-19.
"This achievement strengthens my conviction that with the requisite political will, investments and strategies, as well as citizens' commitment, we will flatten the epidemic curve," Buhari said in response to the WHO announcement. "I can affirm the commitment of all African leaders to this course of action."
Polio and COVID-19 have many similarities: Both are caused by viruses, both can be spread by people with no outward symptoms, both kill some victims and leave others with lifelong damage.
The campaign against polio gave Africa an army of medical experts trained in identifying, tracking, and corralling the outbreak of a potentially deadly virus. When COVID-19 arrived in Africa earlier this year, the WHO redeployed half of its 15 African polio laboratories to combat the spread of the potentially fatal respiratory virus.
Early warning
The fight against polio produced a continentwide system of laboratories and public health experts on the lookout for the appearance of the disease in communities. In the case of polio, that means sampling open sewers and testing wastewater treatment plants for the virus, a process that may also give early warning of COVID-19, according an analysis published in the journal Science of the Total Environment. That's because diarrhea is a frequent symptom of COVID-19.
Sharing information among countries, particularly those with large amounts of cross-border movement, helps create a network that can respond quickly to an outbreak, according to the anti-poverty organization Global Citizen.
Community communication
Misinformation has been a common problem in dealing with COVID-19. The same was true with polio, especially in rural areas or regions where extremists disrupted vaccination campaigns. The WHO enlisted then-South African President Nelson Mandela to bring attention to vaccination. Similarly, the "Kick Polio Out of Africa" campaign used soccer players to spread the word, Dr. Pascal Mkanda, who directed the WHO's polio eradication project, told South Africa's SABC News.
"So, from then we started to see a lot of investments," Mkanda said. "We started doing campaigns. We started improving surveillance and were suddenly seeing that the number of wild polio cases were decreasing."
The polio eradication campaign also found ways to connect its message with other events, such as food distribution to needy families breaking their fasts during Ramadan.
In northern Nigeria, health workers called upon religious leaders to help spread the message to men so they would then let their wives take their children for vaccinations, Dr. Samuel Usman of Catholic Relief Services told media platform Devex.
Investment in testing
As with COVID-19, polio can be spread by carriers who have no outward symptoms. Therefore, a large investment in testing populations for the virus became a crucial part of stopping outbreaks. Testing the contact of those infected with polio, and now COVID-19, also is key in certain settings, according to Global Citizen.
Testing also can help build a community's trust in the medical establishment, which is crucial when distributing a vaccine, Dr. Michele Barry, director of the Center for Innovation in Global Health at Stanford University, told ADF in an email.
"Vaccine confidence takes a village's trust," Barry said. "Hopefully, effective COVID-19 vaccines will soon be rolled out. It is crucial that the public has trust in the information about the vaccine benefits versus risk."
Given the time it might take to develop an effective COVID-19 virus, African nations can benefit from having sharpened their public health systems over more than 30 years of fighting polio, according to Moeti.
"The expertise gained from polio eradication will continue to assist the African region in tackling COVID-19 and other health problems that have plagued the continent for so many years and ultimately move the continent toward universal health coverage," Moeti said in a statement. "This will be the true legacy of polio eradication in Africa."