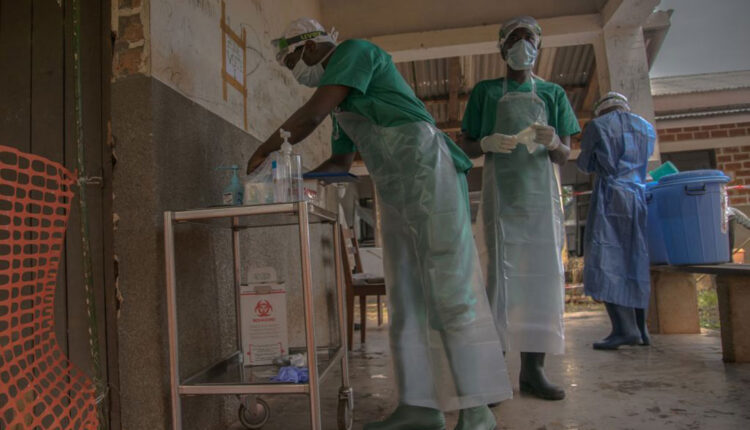 U.S. Relief Helps CAR Avoid Widespread COVID-19 Outbreak
Reading Time:
2
minutes
ADF STAFF
Like many countries in Africa, the Central African Republic (CAR) continues to fight the COVID-19 pandemic amidst the threat of armed conflict and with limited resources to provide support across a vast country.
The United States has continued to assist the CAR by providing more than $13.6 million in assistance since the COVID-19 response began in March, including $9 million in humanitarian aid from the U.S. Agency for International Development (USAID).
"The fight against COVID-19 is global, and the United States is proud to lead this fight, including right here in the Central African Republic," U.S. Ambassador Lucy Tamlyn said in an August 27 press release. "We are especially grateful to our key partners, such as UNICEF [United Nations Children's Fund], UNHAS [U.N. Humanitarian Air Service], and the United Nations World Food Program [WFP], who have been working tirelessly to deliver lifesaving aid to Central Africans, which has been funded by the American people."
The U.S. donations are helping CAR to prevent and contain infections at health facilities, spread information about the virus and its risks, and provide emergency food and water assistance.
CAR has recorded 4,772 cases of COVID-19 with 62 deaths, according to September 15 statistics from the Africa Centres for Disease Control and Prevention. The country has conducted 31,576 tests among its population of nearly 5 million.
"We have a very weak system in a post-conflict situation," said Dr. Marie Roseline Bélizaire in a video for the World Health Organization (WHO). "COVID-19 is another humanitarian situation under an already existing humanitarian situation."
Bélizaire, a Haitian epidemiologist who served on the front lines of the Ebola response in the Democratic Republic of the Congo for two years, was redeployed by WHO to CAR early in the pandemic to assist with COVID-19 preparedness and creating a response plan.
"The first strategy that we built together was to make global testing to see where the epidemic is, where are the clusters, so that we can address them quickly," she said, noting that health workers are going door to door to teach COVID-19 prevention. "We make a very big focus on washing hands, not sleeping together, not going out to the mass gatherings, all those preventive measures."
U.S. assistance has been a critical component to CAR's response. It has included:
$1.5 million to UNICEF to create, maintain and distribute water systems, hand-washing stations, and water and latrines for health facilities, and to reach more than 950,000 people with prevention information.
$1 million to UNHAS to support and facilitate COVID-19 air operations.
$2.5 million to WFP to give two months of $10 food vouchers to almost 91,000 people in the capital city of Bangui.
$822.6 million in total aid in the past 20 years, including 2019 donations of $53 million in food assistance; $9.5 million in water, sanitation and hygiene initiatives; and $4.5 million for emergency health programs.
The U.S. is not alone in supporting CAR.
The U.N.'s Multidimensional Integrated Stabilization Mission in the Central African Republic (MINUSCA) on August 28 donated $408,598 to convert a former Ebola facility into a COVID-19 isolation center and also buy 15,000 screening tests.
"You are not alone in this fight," said Mankeur Ndiaye, CAR's special representative of the U.N. secretary-general, on MINUSCA's website. "This is evidenced by the mobilization of the international community, including the United Nations in CAR, in the face of the scale and consequences of the pandemic."