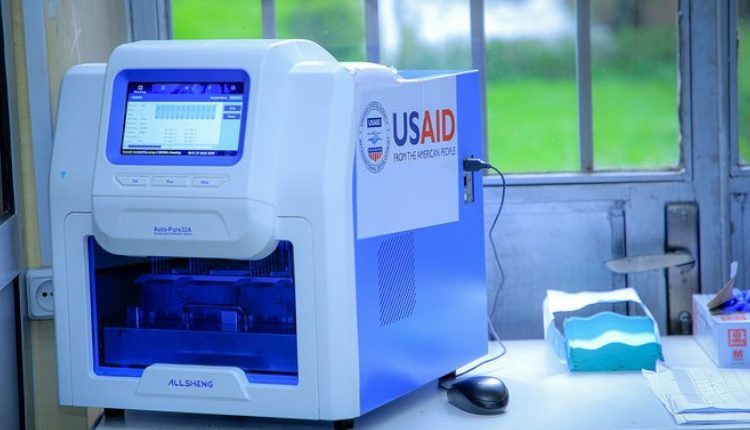 Testing Equipment Gives Ethiopia Edge in Tracking Virus
Reading Time:
2
minutes
ADF STAFF
The U.S Agency for International Development (USAID) recently delivered a cache of much-needed COVID-19 testing equipment and laboratory supplies to Ethiopia.
Ethiopia received 200 oxygen concentrators from USAID and 180 from the United Kingdom. The machines help treat patients with moderate to severe forms of COVID-19, Ethiopian Health Minister Lia Tadesse announced on her Twitter account.
"I would like to extend my deepest appreciation to the U.S. and U.K. governments for the generous donation," Lia said.
The U.S. donations arrived amid a surge in confirmed COVID-19 cases and about the time Ethiopia opened a new field hospital for seriously ill patients. According to the Africa Centres for Disease Control and Prevention, COVID-19 had sickened about 67,000 Ethiopians and killed more than 1,000 as of September 18.
Ethiopia recently conducted its millionth test and opened a laboratory in Addis Ababa capable of producing 10 million tests per year. "By conducting more tests, we will be able to identify positive cases in the community and take appropriate measures to control the spread," Dr. Yared Agidew, head of the country's main treatment center, told The Associated Press.
USAID has committed more than $37 million toward Ethiopia's COVID-19 response since officials confirmed the first infection there on March 14.
In June, USAID embedded infectious disease experts in 10 emergency operations centers across Ethiopia to train local health officials to treat COVID-19 while keeping themselves safe. The project calls for training doctors and nurses working in quarantine and isolation centers, developing health worker protection protocols, and creating plans to prevent COVID-19 transmission at border crossings.
Making good on a pledge from U.S. President Donald Trump, USAID delivered 250 ventilators to Ethiopia in August. In a country of more than 100 million people, Ethiopia had 450 ventilators — 54 designated for COVID-19 — when the pandemic began, officials said.
U.S. funds also are being used for communication, water and sanitation, and infection prevention activities in cooperation with Ethiopia's Ministry of Health, Ministry of Peace and the Ethiopian Public Health Institute.
As part of its outreach, USAID funds a radio show called My Way, which reaches up to 8 million people weekly. U.S. dollars also support mobile outreach to remote communities where experts set up open-air classrooms to educate people about the pandemic and how to avoid infection.
In May, U.S. and Ethiopian officials signed a $230 million development partnership agreement that includes continued investment in health, education, agriculture and economic growth.