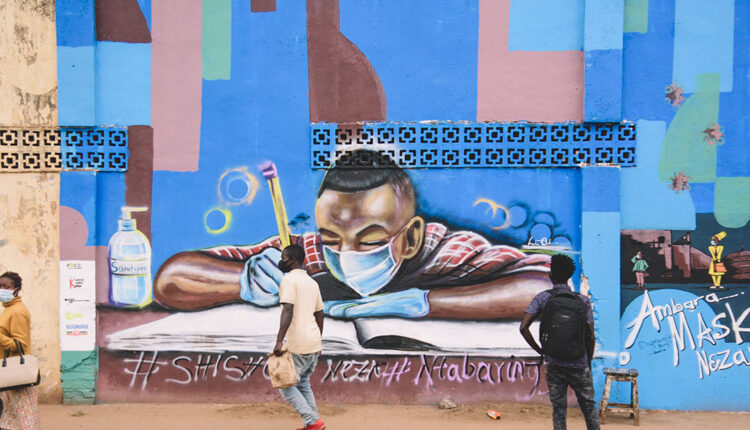 Art Against an Illness: Rwandan Murals Capture Attention
Reading Time:
2
minutes
ADF STAFF
A crowd gathers to watch a splash of bright color, the flash of a paintbrush, an image gradually coming into focus. The artist breathes life into the side of a building, transforming what was previously a dull facade.
In Rwanda, public art means more these days. Onlookers can walk away with an important message — how to fight the COVID-19 pandemic.
From June through August, 14 artists created seven street installations in the capital city of Kigali to help raise awareness about COVID-19.
"It's on the street, it's for the community" artist Gilbert Iradukunda told ADF. "For someone who goes to the market every day, he always sees that message to be appropriately masked, to wash your hands, to keep your distance, to pay bills with mobile money.
"It's a good way to spread the message for anyone who doesn't have a television or a smart phone or a radio."
The project was conceived and coordinated by a Rwandan public arts organization called Kurema, Kureba, Kwiga, which means "To Create, To See, To Learn." The work was sponsored by Rwanda Biomedical Center, the German Embassy in Rwanda, and Goethe-Institut, with material support from Ameki Color Paint.
Judith Kaine, founder and director of Kurema, led the project, which gave autonomy to the artists when their proposals were selected. Kurema has been creating and facilitating public art in Rwanda since 2013, many on the subjects of health, social justice, the status of women and environmental protection.
"This project is a way for artists to contribute to the fight against COVID-19, to share their creativity for a cause," Kaine told ADF. "Artwork is a powerful tool for reaching people who may not be literate, may not be energized by the messages that are coming out in other modalities."
Rwanda has been praised worldwide for its effective response to the pandemic. The country of nearly 13 million has had 4,602 cases of COVID-19 and 22 deaths, according to the Africa Centres for Disease Control and Prevention's September 14 statistics.
"It's a big issue for the community," Iradukunda said. "It has affected many, many people who have lost their jobs or their businesses have closed. Life has been completely changed.
"But as we are coping with the guidelines from the government, it is slowly stopping the spread of the virus. Because of that, the government is opening some businesses, some activities so that life can get back to normal."
For Kaine, the idea of getting back to normal includes a thriving arts scene.
Tourists always have been the top purchasers of art in Rwanda, but the pandemic choked off that revenue stream during the past six months.
"For many months galleries were closed, artwork was not selling," she said. "So this project was also a way to support artists.
"Hopefully it will lead to more interest and investment in the creation of public artwork. Hopefully it inspires more people to pay attention to art and appreciate it and therefore grow the demand for all forms of visual art across Rwanda."