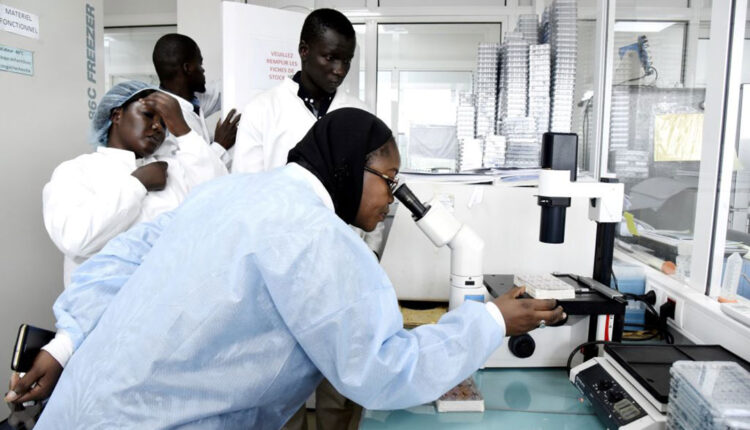 Africa Finds New Ways to Fight COVID-19
Reading Time:
3
minutes
ADF STAFF
Nine months after the virus that causes COVID-19 emerged from a market in Wuhan, China, the worldwide response has set in motion groundbreaking research and life-changing innovations even as it has reinvented the way people relate to each other.
African science and technology leaders have drawn on experience with Ebola and other epidemics and responded early and decisively to the pandemic.
"COVID-19 forced some of Africa's innovators to rise to the occasion and opened the way to them," Peter Tarlow, security advisor for the African Tourism Board, told ADF.
Here are some of the ways COVID-19 has changed life in Africa over the past nine months:
Health Care Response
Although there remains no vaccine for COVID-19, researchers have found that several existing treatments can reduce the severity of the infection. Among those is the drug remdesivir, which has been used to treat Ebola and has reduced recovery time for some people with COVID-19 symptoms. The World Health Organization has reported that dexamethasone, an inexpensive steroid, reduces COVID-19 deaths.
"Steroids are a cheap and readily available medication, and our analysis has confirmed that they are effective in reducing deaths amongst the people most severely affected by COVID-19," Jonathan Sterne, a professor of medicine and epidemiology at the United Kingdom's University of Bristol, told The Guardian.
Health care providers are changing their stance on mechanical ventilation for COVID-19 patients. The demand for expensive ventilators prompted many African nations, such as Nigeria, to develop their own home-grown technology. The overall lack of ventilators in many nations concerned WHO and other nations that began donating machines.
But in treating COVID-19 patients, doctors have found that ventilators can do more harm than good, especially as the virus damages the fragile air sacs in patients' lungs. Conventions have shifted away from early intervention and toward using ventilators as a last resort for the most desperately ill patients.
African nations have reported much lower infection and death rates than the rest of the world. The exact reason remains unclear. The Africa Centres for Disease Control and Prevention (Africa CDC) has launched a continentwide study of COVID-19 antibodies in people's blood. Initial research shows that in Malawi and Cameroon more people carry antibodies than have disease symptoms, which puzzles researchers.
"We do not have an answer," immunologist Sophie Uyoga at the Kenya Medical Research Institute-Wellcome Trust Research Programme, told Science magazine.
Innovations & Technology
As other nations struggled to contain and respond to the pandemic, African nations have used COVID-19 to drive innovation and home-grown technological advancements.
In Rwanda and Senegal, robots greet patients and record symptoms for doctors working remotely. A Rwandan researcher has developed a way to run batches of COVID-19 tests quickly and efficiently to speed results and reduce potential spread. Rwanda has taken its economy cashless to avoid transmission through the handling of money.
In Ethiopia, an 18-year-old student has developed a contact-tracing smartphone app that uses the phone's Bluetooth technology to report whether someone nearby has COVID-19.
In Rwanda, Morocco and elsewhere, drones have allowed authorities to monitor crowds, sanitize public spaces remotely and deliver vital medical supplies to distant areas during lockdowns. Drone company Zipline, operating in Ghana, uses its plane-style GPS-guided drones to deliver COVID-19 samples to laboratories quickly.
Building off their experience testing for Ebola and HIV, researchers at Senegal's Pasteur Institute developed a COVID-19 test that costs $1 and takes about 10 minutes to produce results.
United Front
The continentwide antibody study shows how, through the African Union and Africa CDC, nations across Africa have joined forces to share data and develop African-based solutions to the COVID-19 pandemic. Leaders see a big data approach to COVID-19 as a way to help the continent's economy rebound.
Ghana is conducting a pilot test of PanaBIOS, a smartphone app designed to track users' health status, monitor its surroundings for crowds, and alert users to the possibility that they have been exposed to a person infected with COVID-19.
Backers of PanaBIOS, including the AfroChampions business consortium and the African Tourism Board, see the app as an important tool for enabling countries to reopen their borders as the AU gets closer to launching a continental free-trade zone in early 2021.
"PanaBIOS is a clear testament that a new way of solving complex problems by uniting all levels of society behind a common framework is not only viable but also the only way forward in many important contexts," Preston Asante, public affairs executive for the PanaBIOS Consortium, told ADF.
Tarlow sees COVID-19 inspiring African nations to work together in new ways. African-grown technology — such as delivery drones, contact-tracing software and quick-turnaround testing kits — also have the potential to make African nations part of the global solution to COVID-19, he said.
"So many people see Africa as a receiver, not as a giver," said Tarlow of the tourism board. "So, this could be a game-changer."