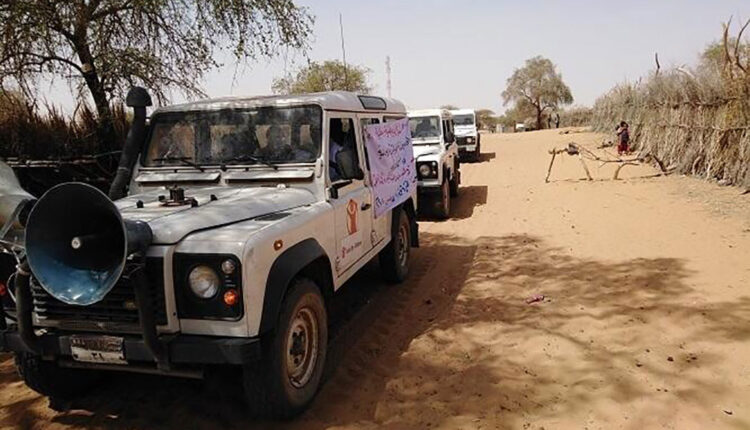 Reading Time:
2
minutes
ADF STAFF
The United States has provided more than $1.6 billion in assistance for Sudan over the past 20 years, touching nearly every aspect of life in a country engaged in profound transition.
The U.S. Agency for International Development (USAID) in a ceremony on July 23 gave broadcasting and information technology equipment to the Sudanese Radio and Television Authority to help develop reliable journalism.
The donation is part of USAID's June 25 pledge of $356.2 million to support Sudan's move to democracy. Elections are scheduled in 2022 after three decades of Omar al-Bashir's dictatorship.
"Sudan's former regime devastated the media sector through censorship, intimidation, and persecution of journalists and media outlets," USAID Mission Director for Sudan Helen Pataki told ADF. "Following Sudan's peaceful revolution last year, there is now an opening for freedom of expression that Sudan has not had for decades."
USAID also pledged an additional $5.5 million to support Sudan's pandemic response, bringing the agency's total assistance in fighting COVID-19 to more than $33.1 million.
U.S. pandemic support includes funds for strengthening laboratory capacity, disease surveillance and contact tracing; expanding sanitation and hygiene; communicating prevention awareness; and emergency food assistance.
The two aid packages have some overlapping objectives, as evidenced by USAID's support of Sudan TV broadcasting shows in several local languages to highlight how people experienced the country's lockdown and how they have avoided catching COVID-19.
"There is some misinformation and lack of knowledge in Sudan about COVID-19," Pataki said. "We are supporting efforts to provide accurate information in multiple languages about what the virus is, how it spreads, and how people can protect themselves from infection.
"Reliable information builds trust and informs people why they are being asked to make sacrifices to protect themselves, their families and their communities from COVID-19."
Among a population of nearly 44 million, Sudan had 715 recorded deaths among 11,302 cases, its Ministry of Health reported July 24.
Gwi-Yeop Son, United Nations Humanitarian Coordinator for Sudan, said $283 million is urgently needed to support the government's health and humanitarian response.
"COVID-19 arrived in Sudan at a time when an increasing part of the population was already struggling to meet their basic needs and the health system was already under extreme stress," she said in a statement on July 20. "We appeal to the international community to come together and to timely and generously support the people of Sudan.
"Unless we act now, we should be prepared for a series of human tragedies."
Sudan currently has a ban on public transportation between cities and states. The capital city of Khartoum has a nightly curfew, and Khartoum International Airport reopened to limited international flights on July 13.
USAID also has partnered with Save the Children, a global humanitarian organization, to bring awareness of COVID-19 to some of the hardest-to-reach communities in Sudan.
A fleet of vehicles equipped with loudspeakers and signboards has shared messages about handwashing, social distancing, and other ways to halt the disease. The organization also has delivered 1,200 face masks and 1,200 liters of hand sanitizer from Sudan's Federal Ministry of Health to medical facilities in the region.
"Our teams are working around the clock," said Arshad Malik, Save the Children's Sudan director. "This is a massive endeavor in some of the most remote parts of Sudan, and I'm proud of my team in what they've achieved so far."
"But there is still much more to be done. Children and their families need to understand what causes the illness — and what doesn't — and the steps they can take to keep themselves safe."