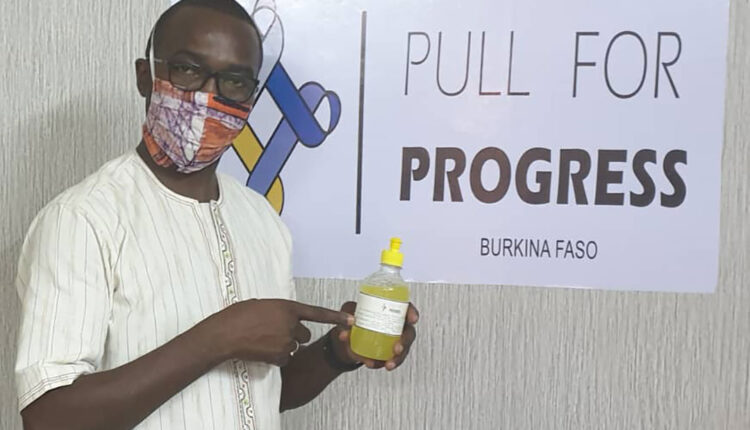 Burkinabe Physician is Radio's 'Hello Doctor' in COVID-19 Fight
Reading Time:
2
minutes
ADF STAFF
You can hear twinges of fatigue and frustration in Moumini Niaoné's voice whenever he speaks about COVID-19 misinformation in his home country, Burkina Faso.
Niaoné spends most of his time speaking on the radio, the streets and the internet, offering his expert guidance on the disease, its symptoms and how to avoid it. He is a doctor, a public health lecturer, a community health specialist and executive director of a nonprofit called Pull for Progress.
"Fake news complicates our work," Niaoné said on Studio Yafa's Ya'Débat radio program. "Every day, we see people denying that COVID-19 exists, that it is a disease of white people."
By now, Niaoné has seen and heard every piece of false information about the global pandemic.
It's political.
Only affects rich people.
A government conspiracy to make money.
Invented in a laboratory.
A hoax for former colonial nations to test vaccines on Africans.
In the capital city of Ouagadougou, Niaoné takes live questions about COVID-19 in a weekly radio show called Allo Docteur or Hello Doctor.
He has appeared on numerous radio and TV broadcasts and has recruited a team of hundreds of volunteers, including some of his medical students from the University of Ouagadougou, to canvass the country with outreach and awareness efforts.
Niaoné leads, trains and organizes the volunteers to enter communities, identify leaders, learn about medical issues, habits and beliefs, then return with a plan for how they can protect themselves. They distribute handmade masks, soap and sanitizer.
But mostly the volunteers listen and talk.
"(It) has helped people understand," said Rashida Ouedraogo, a pharmacy student working with Niaoné's team, reported The Christian Science Monitor. Although, she said, "there are people who will never believe because they haven't seen cases with their own eyes."
On March 18, Burkina Faso became the first country in Sub-Saharan Africa to report a death from COVID-19. That it was a high-ranking politician only furthered the misinformation that the disease only affected elites.
Tedros Adhanom Ghebreyesus, director general of the World Health Organization, announced it was a wake-up call for Africa, explaining at a news conference in Geneva, Switzerland, that "in other countries we have seen how the virus actually accelerates after a certain tipping point."
Burkina Faso has had 54 deaths among 1,156 recorded cases of COVID-19, according to the Africa Centres for Disease Control and Prevention's August 4 statistics. But only 19,291 tests have been conducted in the Burkinabe population estimated at nearly 21 million.
Government interventions, like closing bars and mosques and imposing a nightly curfew, have fallen by the wayside as citizens, businesspeople and religious leaders have complained.
"In our community, people still don't take it seriously," Niaoné said on Straight Talk Africa. "They think it's just lies, and they think the different behaviors they have to take to prevent the disease are too hard to follow. This is a challenge.
"It's all about communication. Our volunteers come from the community. By training them about coronavirus and giving them the right information, they are able to use the messages from their own perspective and convince people that coronavirus is something serious."