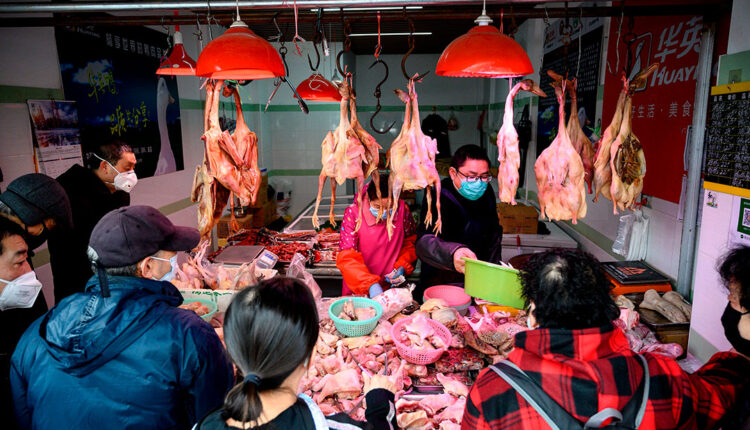 Reading Time:
3
minutes
ADF STAFF
A 57-year-old shrimp dealer at a wet market in Wuhan, China, started out thinking she had a cold, but she became one of the first people known to contract SARS-CoV-2, the virus that causes COVID-19, in December 2019.
Doctors said her illness was "ruthless" — and that she was not alone. About two dozen people connected to the Huanan Seafood Wholesale Market had tested positive for COVID-19, according to The Economic Times, an Indian newspaper. The infections point to the wet market as a source.
In the busy Wuhan wet market and others like it worldwide, live animals are kept in cages and pens, allowing pathogens and body fluids to seep from one container to the next. Animals are killed, butchered, packaged and sold in these markets, often in unsanitary conditions.
"It was not a surprise at all, and I think that it was not a surprise to many scientists," Peter Li, associate professor at the University of Houston-Downtown and an expert on China's animal trade, told Vox. "The cages are stacked one over another. Animals at the bottom are often soaked with all kinds of liquid — animal excrement, pus, blood — whatever liquid they are receiving from the animals above."
COVID-19 is a zoonotic disease, an illness that originates in and spreads from animals or insects. Such illnesses are caused by bacteria, fungi, parasites and viruses. Other examples include Ebola, which is thought to have originated with bats, and HIV, which came from chimpanzees. Severe acute respiratory syndrome, or SARS, originated in China, and Middle East respiratory syndrome, or MERS, first was identified in Saudi Arabia. Both may have origins in bats.
The U.S. Centers for Disease Control and Prevention estimates that more than six of every 10 infectious diseases are zoonotic — they can be spread to people by animals. Three out of every four emerging infectious diseases are zoonotic. With COVID-19, the likeliest animal culprits are bats. Researchers also are exploring what, if any, role endangered pangolins may have had in spreading the disease to people.
In 2003, SARS emerged in a similar wet market in China and spread to 29 countries before abating, according to Vox. SARS killed almost 800 people. COVID-19 has spread to 213 nations and territories and had killed nearly 325,000 people worldwide as of May 20.
China's wet markets commonly offer wild and domestic animals, a move rooted in a government decision from the 1970s. At that time, millions were starving in China, which could not produce enough food to feed its growing population. So the government relinquished some control of food production and allowed private farming of wildlife.
Some peasant farmers started catching and raising wild animals, such as snakes and turtles, for food. The thinking was that if people could feed themselves, that was better for the nation. The practice also provided cover for the illegal animal trade as more exotic species were trafficked into China. In 2016, China allowed farming of endangered animals such as pangolins and tigers. Pangolins have been shown to carry viruses similar to the one that causes COVID-19. "The industry has been promoting these wildlife animals as tonic products, as body-building, as sex-enhancing, and, of course, as disease-fighting," Li said. "None of the claims can hold water."
After the COVID-19 outbreak, China announced it would shut down wet markets and ban wildlife trade again. Interests from across the globe have urged China to make the ban permanent. However, China reopened wet markets across the country in April and even denied it has such markets.
China's National People's Congress released new measures in late March that restrict wildlife trade, ban consumption of bushmeat and the sale of wildlife for meat at wet markets until the Wildlife Protection Law is amended and adopted, according to The Guardian. But the moves do not address operations that breed for traditional Chinese medicine and fur and leather, which are known to drive poaching across the world, especially in Africa.
WILDLIFE TRAFFICKING & LIVE ANIMAL MARKETS:
THREATS & SOLUTIONS
There is no risk-free trade or consumption of any wildlife.
THREATS TO BIODIVERSITY
Wildlife trafficking destroys natural habitats and drives humans and animals closer together.
WILDLIFE AND MARKETS
Live animal markets are a major source of new viruses, and COVID-19 likely originated in such a market.
PERMANENT BAN
Banning wildlife markets protects animals being poached to near-extinction for exotic food, fake medicines and pets.
STOP TRAFFICKING
Nations should end trafficking of wild animals within and across borders and change dangerous wildlife consumption, especially in cities.
Sources: Global Wildlife Conservation and Wildlife Conservation Society