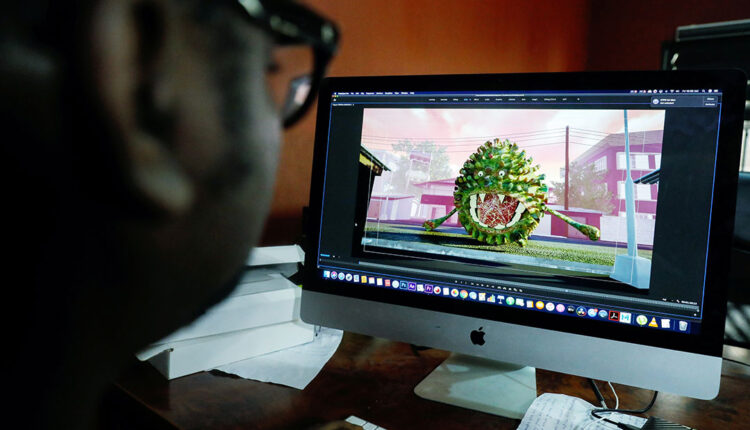 Reading Time:
2
minutes
ADF STAFF
As he struggled to explain to his young son why he could not go outside to play during the global pandemic, Nigerian film director Niyi Akinmolayan turned to a powerful tool: animation.
The result, a 93-second animation featuring young siblings Funke and Habeeb, teaches children and their families about the threat of COVID-19 and how to combat it.
Akinmolayan, who directed the highest-grossing film in Nigerian history, The Wedding Party 2, told CNN Africa his 5-year-old son inspired the project.
"You don't want to tell your child not to go outside, but you don't want your child to think he's being punished for something," the director said. "It was really hard until I came up with the idea of the coronavirus monster."
In the video, young Habeeb wants to go outside to play with his friends. His sister Funke tells him the virus is out there and he could let it in, putting their parents at risk. Habeeb ignores her, opens the door and comes face to face with a growling green monster shaped like the coronavirus.
"It's real! It's real!" Habeeb shouts, slamming the door shut. Funke explains they need to stay inside for now and wash their hands with soap and water.
A second video takes the message a step further: Funke and Habeeb teach their father to wear a face mask and carry hand sanitizer when he leaves the house.
A study published in March in the medical journal The Lancet listed Nigeria among the top five African countries most vulnerable to the spread of COVID-19.
"Generally speaking, the campaign against COVID-19 in Nigeria hasn't been target audience specific, so having a message dedicated to children is a welcome idea," said Olayinka Umar-Farouk, senior technical advisor for Abuja-based Breakthrough Action-Nigeria.
As Akinmolayan's second Funke and Habeeb animation suggests, children can influence their parents' behavior as well.
"Children are very influential to their parents' behavior, especially when they trust the source of information," Umar-Farouk said.
She also praised Akinmolayan for an unspoken message that helps his animation bridge Nigeria's culture divisions. Funke has a Yoruba name; Habeeb's name is Hausa.
As Nigeria relaxes its lockdown in major population centers such as Abuja, Lagos and Ogun states, COVID-19 cases have started to trend sharply upward.
Without a clear path to a vaccine, education remains the most powerful weapon against the virus, Akinmolayan said.
"And that's where I want to be," he said.
Animation was the perfect way to tell the story because the production could be done under social distancing conditions, Akinmolayan said.
Akinmolayan produced the video in English as well as Yoruba, Igbo, Hausa and Kiswahili. The goal was to expand the video's reach to viewers who don't speak English — especially elderly people at the highest risk from the virus — as a way to combat misinformation.
He also encouraged others to adapt the video to their own audiences. There's now a French version playing in Côte d'Ivoire, a Swahili version in Kenya, and a Portuguese version adapted for Brazil.
"What it says to me is that animation is easily translatable," Akinmolayan told CNN Africa. "I was really proud that the characters were African, and we were talking to the world."