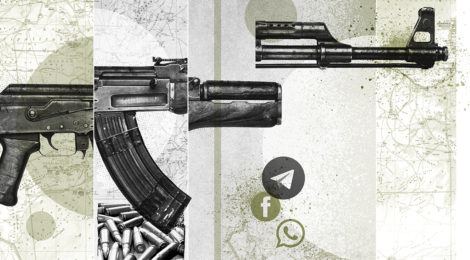 Weapons on the Web
Facebook struggles to control a black market in Libya.
ADF STAFF
With nearly 2 billion active accounts, Facebook has something for almost everyone. That includes black market rocket launchers and anti-aircraft missiles.
Such weapons are offered on Facebook in Libya, where dictator Moammar Gadhafi accumulated more than $30 billion in arms before he was overthrown in 2011. After he was killed, officials, rebels and looters found weapons stashes all over the country, not only in military depots, but also buried in the Sahara desert. The weapons have spread throughout the continent on the black market. A 2014 United Nations report said extremist groups from Boko Haram in Nigeria to Syrian rebels have purchased weapons from sellers in Libya.
There is a large demand inside Libya for small arms, including handguns and AK-47 assault rifles. Because of the country's continued lawlessness, Libyans fear for their safety, and many feel compelled to carry concealed guns. Carjacking is a major problem in Libya's cities, with Tripoli alone reporting at least seven carjackings per day. It is no wonder that Libyans want firearms and sometimes buy them on Facebook.
What Libyans pay for handguns is indicative of the demand. One researcher said that in 2017, handguns were selling on Facebook for $2,000 to more than $7,000.
Reports in April 2017 indicated that the black market for Libyan weapons sold outside the country was growing significantly, and dealers were selling large, more sophisticated weapons — ones used by militant groups. They had become particularly common in regions where ISIS has a presence. The United Nations has reported that Libyan arms have been sold in at least 14 countries.
In addition to Facebook, WhatsApp, Instagram and the encrypted messaging service Telegram are used for arms negotiations. Facebook and other social media prohibit the sale of weapons and close down users involved in arms dealing. But as soon as one arms seller's account is shut down, another one opens, sometimes within a matter of minutes.
In a prepared statement, a Facebook official said: "It's against Facebook's Community Standards to coordinate private sales of firearms, and we remove any such content as soon as we become aware of it. We encourage people to use the reporting links found across our site so that our team of experts can review content swiftly."
David Fidler of the U.S.-based Council on Foreign Relations said the arms sales reverberate throughout the international market.
"Using social media platforms creates a number of problems, including the problem of flow and accessibility of weapons in the international market," he told The Christian Science Monitor. "It's not just a law enforcement problem; it is a national security problem."
Arms sales studied
Armament Research Services (ARES), a private consulting group, studied the sale of arms on social media and came up with several conclusions:
• Just about any type of conventional weapon is available: ARES and journalists, including reporters for The New York Times, found Facebook postings for guided anti-tank missiles, heat-seeking missiles, grenade launchers and heavy machine guns used to shoot down aircraft. Sellers often post photographs of the weapons in question.
Generally speaking, most of the anti-aircraft weapons, regardless of their size and power, are older technology and a lower threat to modern military jets compared to current generation surface-to-air weapons. But even the older-technology weapons pose a threat to helicopters, slower-moving commercial planes and Soviet-era jets used by the Libyan National Army.
• Some post-embargo weapons are available: ARES documented three French-made anti-tank missiles, probably from a 2007 contract with Libya, for sale online.
• The main trafficking is in handguns and assault rifles: A particularly common weapon for sale is the AK-47 assault rifle.
• The use of social media for arms sales is relatively new to Libya: Before the overthrow of Gadhafi, the country's arms market was tightly controlled, and there was little access to the internet or smartphones.
• Libya is not the only social media market for arms sales: It seems that wherever there is armed conflict, a social media market for arms emerges. Similar Facebook markets have been found in Iraq, Syria and Yemen, according to ARES. Weapons trafficking is particularly prevalent in countries with armed extremists.
• New Facebook features have unintentionally made it easier to sell arms: When Facebook began, a company official told The New York Times, the site contained no provision for buying and selling. But the service can now process debit card payments through its Messenger instant-messaging service. The message service includes an icon for typing in a debit card number.
• Business is brisk: In Libya, ARES has documented 250 to 300 posts for arms sales each month on social media sites. ARES Director N.R. Jenzen-Jones said that by early 2017, his group had documented 6,000 arms trades, "but it's probably much bigger than that."
• Facebook wants your help: Facebook has made it easy for users to report suspicious activity on the site. There is a "Report" option on each Facebook post. Facebook has Community Operations teams that review the reports and can remove offending content.
• Extremists aren't just buying weapons on Facebook: Markets exist for related items, including ammunition, bulletproof jackets, two-way radios, uniforms and night-vision cameras. The sale of such items does not typically violate Facebook's rules, unless it can be shown that the same groups selling such items also are selling weapons.
Relatively low percentage
Researchers say that online weapons trading in Libya makes up a relatively small percentage of overall sales. And online or not, an estimated 80 percent of the weapons sales in Libya are in and around Tripoli. Still, online trades offer unique challenges to law enforcement officers and the military. The Facebook pages where weapons are sold are usually secret or closed to the public, meaning they can attract thousands of members and conduct business for months before being ferreted out.
During the Arab Spring, social media, including Facebook, were vital tools in spreading reform and rebellion.
"In Libya, Facebook was used to articulate medical needs, post important phone numbers, and place messages from hospitals in need of blood donations," reported the Consortium Against Terrorist Finance. "It brought people together, mobilized them around a cause, and encouraged social responsibility and accountability."
Today, things have changed. In September 2013, The Independent of Great Britain told of a young Libyan who needed a gun and found one advertised. The man responded in the comments section of the post, giving his phone number. The posting indicated that the vendor could deliver the pistol anywhere in Libya, suggesting an organized entity behind the sale. The buyer received a call a few days later to confirm the deal, and a delivery boy showed up in the center of Tripoli with the gun.
Draft emails also can be used for weapons trading and information exchanges. Two or more parties will share the sign-in information for a common email account, where they can write drafts of emails without actually sending them. Because two people share the account, both can see the messages. Such emails leave such a faint data trail, they can be virtually undetectable.
As social media sites work to stop extremists from using their services, the extremists are becoming more sophisticated in their techniques. Computer experts say that it is one thing to hack an extremist website — it is more difficult to track extremists who move about on different Facebook pages or post hundreds of videos on YouTube. On Facebook, a group of core members moves among trading groups regularly. Although there is ongoing monitoring for weapons sales on Facebook, some groups can continue selling weapons undetected for extended periods.
Critics say the social media companies can do a better job of policing their sites. In Libya, for instance, most weapons sales communication is in Arabic, with hardly any effort made at all to hide its purpose. One former site was named "The Libyan Firearms Market." In response, social media companies are trying harder to moderate and restrict weapons sales and other extremist activity. As the companies develop tougher policies, better policing and more effective countermeasures, the extremists can be expected to refine their techniques.
Researchers say the online weapons trade in Libya will require a public-private partnership to resolve. Facebook and other internet services have their work cut out for them in forming any partnership with Libya. As of 2017, the country had two rival parliaments and three governments. The newest government was organized in talks brokered by the United Nations in hopes of replacing the other two.
Without some sort of partnership, the online arms sales will continue to flourish. As Fidler told the Monitor: "This connects to a larger set of problems where we see that companies and governments have to respond to the negative externalities of cyberspace."
(

0

)
(

1

)