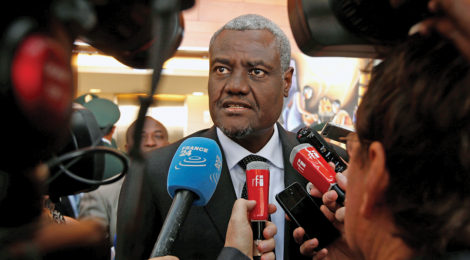 Chadian Official Takes Helm of AU
AGENCE FRANCE-PRESSE
Moussa Faki Mahamat, former foreign minister of Chad, assumed office as head of the African Union Commission, pledging to reform the institution and tackle the continent's crises.
Faki took over leadership of the 54-country continental bloc in March, 2017 days after the United Nations announced food emergencies in four countries, including three in Africa: Somalia, South Sudan and northeast Nigeria. The U.N. said the food shortages constitute the worst humanitarian crisis since World War II.
"The famine that ravages vast areas of Africa these days is a real humiliation for us," Faki told delegates at the commission's headquarters in Addis Ababa, Ethiopia. "The immense potential of our continent and the enviable rate of economic growth of many member states of the union leave us no justification for this hideous human tragedy."
An ally of Chadian President Idriss Deby, Faki, 56, pledged to put "development and security" at the top of his agenda. As foreign minister, he was seen as taking a strong position against Islamic extremism in Mali, Nigeria and the Sahel. Faki was elected AU chairman in January 2017 after seven rounds of voting, triumphing over Kenyan Foreign Minister Amina Mohamed and candidates from Botswana, Equatorial Guinea and Senegal.
In his speech, Faki embraced what he said was an "enlightening" report by Rwandan President Paul Kagame that recommended ways to reform the AU. The report called for the institution to better distinguish itself from other regional blocs and focus its efforts only on key areas such as political affairs and peace and security. Faki takes over from Nkosazana Dlamini-Zuma of South Africa.
(

0

)
(

0

)