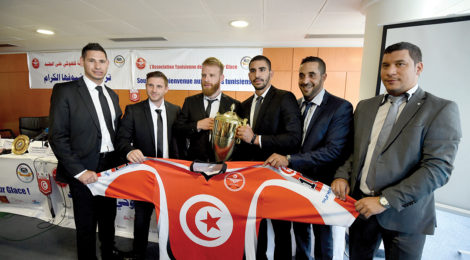 Tunisia's Hockey Team Takes African Cup
AGENCE FRANCE-PRESSE
With its beaches and year-round sun, Tunisia is not the most obvious home for the winter sport of ice hockey. But one man is determined to change that.
In 2014, Ihab Ayed quit his job in finance in Paris to realize his dream of creating the North African country's first ice hockey team. Ayed had dreamed of a Tunisian team playing the game internationally ever since he learned at age 5 how to hit a puck on ice.
"It took me six years, from 2006 to 2012, to bring together 40 players from around the world," said the Franco-Tunisian. "I combed ice hockey websites. I'd randomly type in Sami, Mohammad — Arabic names" to see whether any Tunisians came up.
With the help of social media and tips from friends, he cobbled together a team of amateurs and professionals, all of whom have at least one Tunisian parent. In 2014, the first ice hockey team from the country played, and lost, its first game outside Paris. But on July 30, 2016, the Carthage Eagles won for the first time in Morocco and went on to become champions of the African Ice Hockey Cup.
The unlikely competition, in which they faced off against teams from Egypt, Morocco and Algeria, may not be recognized internationally, but the Eagles' win sparked the interest of Tunisian authorities.
It was no easy feat. All of the team's members paid for their own flights to Morocco, and money from sponsors covered accommodations and equipment. And the team's players — largely from France, but also from Belgium, Finland, Sweden and Canada — cannot even train together.
"Each player trains with his own club," Ayed said.
Before the games in Morocco, he added, "we'd do a quick warmup to see what the ice rink was like on Monday morning, and on Monday evening we'd be playing."
The plan is for Tunisia to become an affiliated member of the International Ice Hockey Federation with its own Olympic ice rink. "The sport won't be able to exist in Tunisia if we don't have an ice rink, with the official dimensions," Ayed said. "Our ambition is for Tunisia to become renowned worldwide for ice hockey and for it to be able to send a team each year to the world championships."
(

0

)
(

0

)