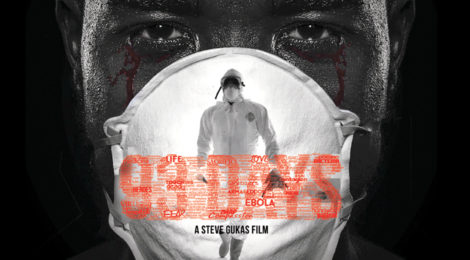 Nigerian Ebola Movie Extols Moment of Heroism
AGENCE FRANCE-PRESSE
Hollywood plague movies usually are about a fictional viral outbreak that unleashes chaos and anarchy that can only be stopped by heroes who transcend the panic.
That's not true for 93 Days, a Nollywood film that opened in September 2016. It dramatizes the story of Nigeria's response to the 2014 Ebola epidemic that killed more than 11,000 people in West Africa.
Hundreds had already died from the disease in Guinea, Liberia and Sierra Leone when Ebola surfaced in Nigeria as a Liberian Finance Ministry official, Patrick Sawyer, arrived in Lagos on July 20, 2014, visibly unwell. When it was confirmed he had the hemorrhagic virus, there were fears it would spread like wildfire in the megacity of 20 million and across Africa's most populous nation.
But that's not what happened, and for many people that was nothing short of a miracle. Nigeria had just 19 confirmed Ebola cases and seven deaths, including Sawyer. The country lifted its state of emergency 93 days after he was first admitted to hospital.
"For the first time, Nigerians united to fight against a common enemy; everyone was scared," producer Bolanle Austen-Peters said. "Two years later, it is as if there had been a general amnesia; no one seems to remember what we went through."
Directed and co-produced by Nigerian filmmaker Steve Gukas and written by South African Paul Rowlston, 93 Days portrays the medical staff of First Consultants Medical Centre, where Sawyer was admitted.
(

0

)
(

0

)