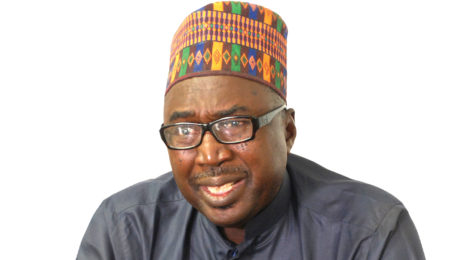 Nigerian Lawyer honored for Mediation
AGENCE FRANCE-PRESSE
A Nigerian lawyer who helped secure the release of more than 100 schoolgirls kidnapped by Boko Haram in Chibok was awarded one of the United Nations' top prizes.
Zannah Mustapha was given the annual Nansen Refugee Award for his "crucial mediating" role and his work helping children affected by the long-running conflict. Mustapha, 58, said the award was unexpected but he was "exceedingly happy" to have been chosen. "I look forward to being a worthy ambassador for such a noble award," he said in an interview in the capital, Abuja.
Mustapha set up the Future Prowess Islamic Foundation School in 2007, which has since proved to be a lifeline for children in conflict-riven and impoverished northeast Nigeria. The primary school has grown from having just 36 children and a single classroom to 540 pupils — more than half of them girls — with four times as many on the waiting list. In 2016, a second school was opened near the first in the Borno State capital, Maiduguri, providing free education to 88 students displaced from their homes by violence.
Students include the children of Boko Haram fighters and Nigerian Soldiers. "This is the place where every child matters, no matter what their religion, background or culture. Our aim is to make positive changes in their lives," he told UNHCR, the U.N. refugee agency.
Mustapha is a well-known figure in northeast Nigeria, having previously represented the family of Mohammed Yusuf, the founder of Boko Haram who died in police custody in 2009. The lawyer has been involved in peace talks with the group, whose insurgency has left at least 20,000 dead and displaced more than 2.6 million in the past eight years.
It was in April 2014 that Boko Haram abducted 276 girls from their boarding school in Chibok. Several escaped or were rescued, and negotiations later led to the release of 21 girls in October 2016 and another 82 in May 2017. That month, 113 were estimated to remain in captivity.
Mustapha said when a deal first was reached it was "the highest point" in his life, and he said that being from the region, the kidnappings, which brought global attention to the Boko Haram conflict, were as if his own daughter had been taken.
Mustapha said he was "100 percent hopeful" that the remaining schoolgirls would be released and that the insurgency will come to an end. After so much violence, "everybody in my state is yearning to have peace," he said.
(

0

)
(

0

)