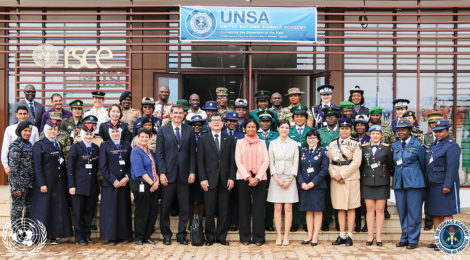 Training Boosts Female Peacekeepers' Skills
UNITED NATIONS SUPPORT OFFICE IN SOMALIA
In a unique event, 39 female military and signals personnel from 17 countries took a two-week course on information and communications technology. The course was held at the United Nations Signals Academy at the U.N. Regional Service Centre Entebbe, Uganda, in November 2016.
Skills taught at the course will allow female military and police personnel to play a greater role in peacekeeping operations. Several of the women who participated were serving in the African Union Mission in Somalia.
Samuel Leal, U.N. Signals Academy Programme manager, expressed the academy's dedication to promoting gender equality and women's empowerment in peacekeeping.
He cited U.N. Security Council Resolution 2122 (2013), which encourages troop- and police-contributing countries to increase the number of women in peacekeeping operations.
The training combines theoretical and practical modules on U.N.-owned equipment, standard operating procedures, gender issues and familiarization with the larger U.N. operational environment.
To date, the U.N. Signals Academy has trained 87 women out of a total of 1,222 signals personnel. The U.N. Signals Academy was founded in 2015 as an outcome of the First International Symposium on Technology in Peacekeeping in Brindisi, Italy, through a strategic partnership between the U.N. and supporting member states.
The academy provides standard and mission-specific training to military and police signals experts from troop- and police-contributing countries and regional organizations such as the African Union.
(

1

)
(

0

)