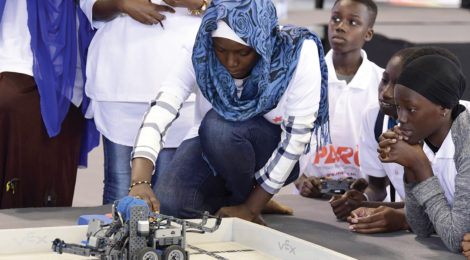 West African Girls Shine in Senegal Tech Battle
AGENCE FRANCE-PRESSE
West African schoolgirls, some not yet teenagers, have taken a starring role at an engineering competition in Senegal, crushing stereotypes with their robotics expertise.
The Pan-African Robotics Competition in Dakar, Senegal, in May 2017 reflected the growing importance of science education as a way to spur the economy and spark development.
Rows of young women from Senegal, The Gambia and Mali screamed for their teams as robots picked up plastic cones and dropped them onto markers.
Senegal's Mariama-Ba all-girls academy won the high school category for a "made in Africa" pump solution to flooding, and girls were well-represented in the winning 11-to-15 age group after showing off their robotics skills.
"Our generation is definitely the one," said Umu Tarawally, a 14-year-old Gambian who aspires to be a doctor and explained to an audience how groundnut shells could be converted into fuel.
The event attracted 250 boys and girls ages 11 to 19 who are studying science, technology, engineering and mathematics.
Senegal is trying to open the sector by backing girls' coding clubs and math teaching in schools. A technology hub is being constructed near the capital for research and training as part of broader efforts to fill domestic skills shortages.
"As Senegal wants to become an emerging nation, we have to master the sciences, technology, engineering sciences and maths so we have the expertise to manage our own natural resources and also to create the innovations to construct our future," said Mary Teuw Niane, Senegal's minister of higher education and research.
A flood of new engineers would be timely, with Senegal on the cusp of a potential oil and gas boom from deposits being found off its coast.
For Aminata Ndiaye, 15, battling machines in a Senegalese stadium was a foundation of something much larger as she took the prize with her school in the northern city of Saint-Louis.
"It has changed my future," she said. "It is not just a robotics competition."
(

0

)
(

0

)