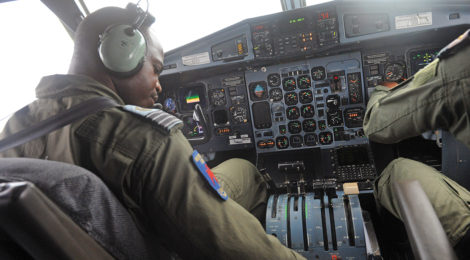 Nigeria Beefs Up Air Fleet
NEWS AGENCY OF NIGERIA
The Nigerian Air Force (NAF) has acquired new helicopters and is reactivating old aircraft to better combat security challenges in the country.
Chief of Air Staff Sadiq Abubakar announced the acquisitions at the inauguration of the newly built Air Force Secondary School and Airmen Transit Accommodation in Lagos State. The Air Force has taken delivery of the first of 12 Mi-35 helicopters that will be crucial to defeating Boko Haram, he said.
"This has contributed immensely toward equipping the service to conduct counterinsurgency operations and also contend with other emerging security challenges across the country," Abubakar said. "Be assured that we will continue to do our best in meeting our statutory responsibilities of defending the territorial integrity of the nation."
The first two helicopters were introduced into service during the Nigerian Air Force's 53rd anniversary celebrations in April 2017 in Makurdi. The modern Mi-35M attack helicopter has night capabilities that the earlier version lacked and also has higher performance, more endurance and is fitted with a glass cockpit to enhance situational awareness during operations, defenceWeb reported.
Additionally, Air Force technicians repaired six Alpha Jet engines, bringing several old planes back into service. The repair work saved $2.4 million.
While celebrating the school inauguration, Abubakar said education was key in human capital development and will lead to technical advancement and innovation.
"We made a quick assessment of the available primary and secondary schools in our bases and identified some gaps. These gaps necessitated the upgrade of some of the schools," he said.
NAF School Shasha has 18 classrooms, five laboratories, a library and recreational facilities, and offices for the commandant and other staff members.
(

0

)
(

0

)