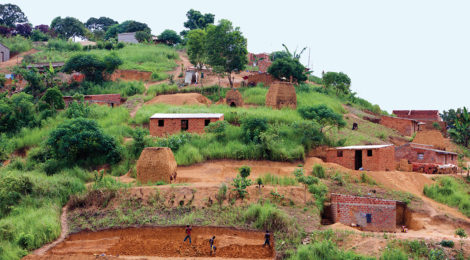 Three African Sites Given UNESCO World Heritage Status
UNESCO
In July 2017, the United Nations Scientific and Cultural Organization (UNESCO) World Heritage Committee added three new cultural sites in Angola, Eritrea and South Africa. The prestigious "world heritage site" designation means the areas are "considered to be of outstanding value to humanity" and are given protections from development or destruction. The newly added sites are:
Mbanza Kongo, the former kingdom of Kongo in Angola
The town of Mbanza Kongo, located on a plateau at an altitude of 570 meters, was the political and spiritual capital of the kingdom of Kongo, one of the largest states in Southern Africa from the 14th to 19th centuries. The community grew around the royal residence, the customary court and the holy tree, as well as the royal funeral places. When the Portuguese arrived in the 15th century, they added stone buildings.
Asmara, Eritrea: Africa's Modernist City
Located more than 2,000 meters above sea level, the capital of Eritrea developed from the 1890s onward as a military outpost for the Italian colonial power. After 1935, Asmara underwent a large-scale development, applying unique architectural techniques to governmental edifices, residential and commercial buildings, churches, mosques, synagogues, cinemas and hotels. It is an exceptional and well-preserved example of early modernist urbanism at the beginning of the 20th century.
The Khomani Cultural Landscape in South Africa
The Khomani Cultural Landscape is at the border of Botswana and Namibia in the northern part of South Africa. The large expanse of sand contains evidence of human occupation dating to the Stone Age. It is associated with the culture of the formerly nomadic Khomani San people who have adopted unique strategies to survive the harsh desert conditions. The Khomani San developed a specific ethnobotanical knowledge, cultural practices and a worldview related to their environment. The Khomani Cultural Landscape bears testimony to the way of life that prevailed in the region and shaped the site over thousands of years.
(

0

)
(

0

)