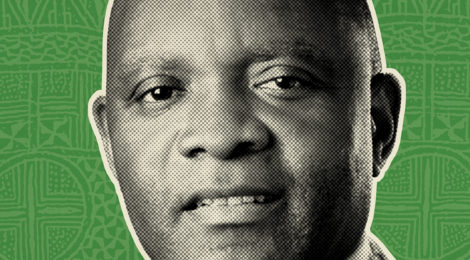 Preparing for the Unknown
A conversation with Dr. John Nkengasong of the Africa CDC on how to anticipate the next pandemic
ADF STAFF
Dr. John Nkengasong is a virologist who has spent his life searching for cures to the world's deadliest diseases. During a 22-year-career at the U.S. Centers for Disease Control and Prevention in Atlanta, he held numerous posts including chief of the International Laboratory Branch and co-chair of the President's Emergency Plan for AIDS Relief Laboratory Technical Working Group. A native of Cameroon, he is the founding chairman of the board of directors for the African Society for Laboratory Medicine and previously served as the chief of virology in Côte d'Ivoire. On January 1, 2017, he became the first director of the Africa Centres for Disease Control and Prevention (CDC), a continentwide public health agency that is part of the African Union. He spoke to ADF from his office in Addis Ababa, Ethiopia. His remarks have been edited to fit this format.
ADF: How did you become interested in this field of medicine, and where does this passion come from?
Nkengasong: I am a virologist. I've been practicing virology for close to 28 years now. So, to be quite honest with you, my passion for this started with hepatitis B. At that time, before HIV/AIDS, it was perhaps the most devastating viral infection, due to the liver cancer effect that it caused. Subsequently, I studied hepatitis C and then HIV/AIDS for the past 20 or 25 years. I think my interest in virology stems from the devastating effect viruses have had in history and also how they continue to constitute a threat to human beings.
ADF: How did the Africa CDC come into existence? Was the project planned before the Ebola outbreak of 2014-2015?
Nkengasong: In 2013, the heads of states of the African continent met in Abuja, Nigeria. They considered several factors, including the population of the continent, which really has increased tremendously from the time when countries gained independence. In 1947, when the World Health Organization (WHO) was created, the entire population of Africa from Cairo to Cape Town and Liberia to Somalia was about 230 million. Fast forward to today, and the continent is over 1.2 billion. And we are still using the same public health architecture that was established in 1947. Because of the increased population, there is a massive movement of individuals, and there are a number of diseases that we are facing now that were not there at that time. HIV/AIDS was just characterized 30 years ago and has had a devastating influence on the continent. The issues of antimicrobial resistance are very serious. It is projected that about 4 million Africans will die annually because of antimicrobial resistance by the year 2050 if nothing is done. Lastly, there is the growing impact of noncommunicable diseases [heart disease, diabetes, cancer].
Because of all these factors, they thought it was important to establish a public health agency that will complement and enhance the work the WHO is currently doing. Ebola came in 2014, and that accelerated the idea that this agency is critical. The heads of state moved ahead quickly to establish it, and it was formally launched on the 31st of January 2017.
ADF: One of the goals for the Africa CDC over the next five years is to improve health-related surveillance and information systems. What does this mean, and how might it help identify outbreaks in their early stages?
Nkengasong: Actually, if we had systems in place to monitor these outcomes and act on them, then we would have picked up on the Ebola outbreak very early on. That's what we mean by surveillance systems that are strengthened. It's the ability to monitor and track the occurrence of diseases and take action. The reason that we need good innovative information systems is that it is not enough to detect an event in a remote area in a country; you ought to be able to report that event in a timely fashion to the next layer of the health system so they can take the action that is required. There has to be a feedback mechanism that provides a response. You're dealing with detection and response.
ADF: So in the future if something occured in a remote area of Guinea, for example, then there would be a mechanism in place for people to report that to a local health official who can run it up the chain of command to the national level and get a response?
Nkengasong: Exactly. Assuming that the event occurs in a remote area of Guinea and is picked up by a community health worker, and they immediately use the appropriate information system. This could be a simple cellphone that people in the community are trained to use to transmit public health data to the next layer, and then the next layer dispatches a group of experts to go to the community and investigate it. It's not just the laboratory, but epidemiologists and those who know how to do these investigations. They go there and find out and take action. That would have minimized the impact of Ebola.
ADF: Another goal is to help strengthen clinical and public health laboratory networks in the five African subregions. Could you explain the role of these laboratories?
Nkengasong: The operating model of the Africa CDC is that member states should have their national public health institutes, which are their mini-CDCs. They will have the ability to run a lab network in the country, have a response team of disease investigators and laboratory experts, and have an emergency operations room that can be used to coordinate the intervention during an event. Lastly, they should have a good information center. So these public health institutes will now work around the regional collaborating centers. We are hoping to equip these regional centers with more advanced diagnostic capabilities. For example, the regional center in Nigeria, if there is an event in The Gambia or Guinea where they cannot characterize it, they can collect the sample, ship it quickly to the regional collaborating center, and use advanced diagnostic technology there to figure out what it is and provide the response in a timely fashion. Then the headquarters in Addis Ababa, Ethiopia, will of course be coordinating all of this effort and provide additional capabilities if the need arises.
ADF: Will any of these networks include facilities where you can create and store vaccines?
Nkengasong: Yes, that's part of the plan. They should be able to have more specialized techniques in what we are calling reference centers. Let me give you an example: In West Africa there are powerhouses of public health resources that we have. There is the Medical Research Council Unit in The Gambia; the Institut Pasteur in Dakar, Senegal; the Institut Pasteur in Côte d'Ivoire; the Noguchi Memorial Institute in Ghana; and the regional center in Nigeria. So we don't expect everyone to do the same thing, but we expect each of them to be able to do very specific tasks.
ADF: The Africa CDC also plans to help African Union member states create or improve preparedness and response plans for public health emergencies. What do countries need to be doing to improve these plans?
Nkengasong: As we speak, many countries have not developed pandemic preparedness and response plans. We are working together with the WHO and other organizations like the World Bank to develop a framework on how member states can develop and implement their plans. We really want to see them not only develop them but simulate them every so often. So I think that we can assist them to seek out the gaps that exist and to know exactly where the gaps are that we need to strengthen. Because it's one thing to develop these plans; it's another thing to actually put these plans in place. We have just started; we have not yet engaged member states, but we hope to convene our first meeting in August or September in Kenya. The unique asset that the Africa CDC has is that it can convene the ministries of different countries — ministries of finance, agriculture, communications and interior — and bring them all to the table so they can actually be on the same page in terms of understanding what preparedness means and what response means in a coordinated fashion. Because when you hit that pandemic situation like we saw in the Ebola crisis, it ceases to be a Ministry of Health activity. It becomes a multisector activity.
ADF: As you look across the continent in your new role, what are you most concerned about?
Nkengasong: The continent of Africa should use Ebola as a wake-up call and join efforts in supporting what the leadership has put in place with the Africa CDC to help strengthen overall systems. The best way to prepare for the unknown is to prepare for the known. That way the national health system can respond to the frequently occurring diseases that we deal with every day. This is what we call in the jargon "endemic." They include malaria, HIV, tuberculosis, cholera. So if we have systems that can respond to these everyday occurrences, then we are preparing ourselves for the worst case.
The second concern that I had is that everyone thinks of Ebola, but we should be thinking, "What if it wasn't Ebola? What if it was a pandemic flu?" It would probably be several orders harder to control that kind of infection. So we should really be putting our energy into thinking that even though we were successful at bringing Ebola under control, it could be something else.
Finally, I would say there are three different ecological threats that we are looking at. One is diseases that occur with contact to contact. Second, diseases that are respiratory — airborne like the pandemic flu. Lastly, vector-associated diseases like Zika and yellow fever. So in our overall strategy of preparedness, we should be thinking of these three ecological threats in order to make us better prepared for the future.
(

0

)
(

0

)