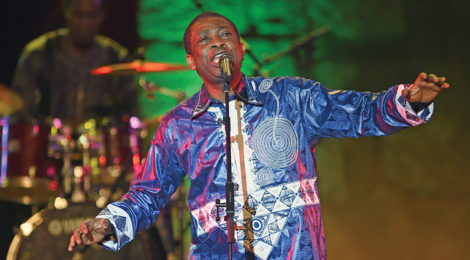 N'Dour Lends Star Power to Malaria Fight
AGENCE FRANCE-PRESSE
Youssou N'Dour, Senegal's — and perhaps Africa's — most famous musician, is throwing his weight behind malaria eradication in his homeland.
N'Dour has performed and toured since the 1970s, blending Senegalese music with soul, hip-hop and jazz. But he is also known for his work as a longtime campaigner for malaria prevention. The disease remains all too common in Senegal, with 500,000 recorded cases in 2015, including 4,400 deaths.
Worldwide, malaria killed more than 400,000 people in 2016, according to the World Health Organization (WHO). The vast majority were children living in Sub-Saharan Africa. Children are more susceptible to the disease.
A $32 million initiative is aiming to finally stamp out malaria in the West African nation. Health officials will distribute more than 2.5 million insecticide-treated mosquito nets, 1.6 million rapid diagnosis tests and 70,000 doses of antimalarial drugs.
Senegal is in the first stage of the fight against malaria, which the WHO refers to as the "control" phase. It aims to move to the next level — pre-elimination — by 2020.
"It's first of all a serious public health problem," N'Dour said. "But we also see the economic impact around it and the weaknesses we have at the level of development in Africa because of malaria."
The Lives and Livelihoods Fund, which targets health projects in Muslim-majority nations and is funded by the Bill and Melinda Gates Foundation and several Gulf of Guinea states, is backing the project with the Senegalese government.
N'Dour speaks with anger about the children's lives lost needlessly to the disease over the years. He believes the Senegalese have frequently minimized malaria's deadly impact in the past. "Here there are a lot of people who will tell you, 'Oh, I just have a touch of flu,' while in fact they have malaria," N'Dour said. "When children don't go to school, there are no jobs, you can't work. So poverty is always hovering in the background."
(

0

)
(

0

)