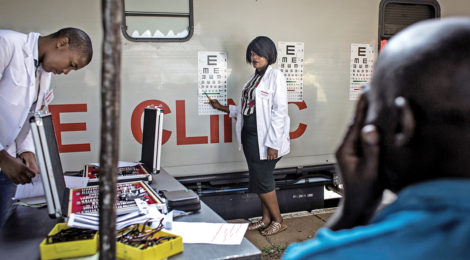 Train Brings Health Care to South Africa's Poor
AGENCE FRANCE-PRESSE
South Africa's Phelophepa train draws a crowd wherever it goes. The sound of the lumbering 19-car clinic-on-rails signals the arrival of badly needed free health care for thousands of South Africans as it tours the country.
At a stop in Pienaarsrivier, a town in South Africa's Limpopo province, dozens of elderly patients and women clutching children showed up to take advantage of the service.
"We are so happy. I got two pairs of spectacles, and now I'm going to see the doctor for a checkup," said 60-year-old Janette Rakgetse from nearby Hammanskraal. "I've saved a lot of money. We arrived at 5 a.m. to beat the queue. We are a group of grannies who organized ourselves to come here."
The train clinic spent two weeks alongside Pienaarsrivier's neat red-brick station, 55 kilometers north of the capital, Pretoria, before traveling 500 kilometers to Ladysmith in the country's east. It provided general medicine, dentistry, psychology services, a fully stocked pharmacy and an eye clinic.
Final-year medical students at universities across South Africa treat up to 400 patients a day on the train, which is run by Transnet, the state-owned rail logistics operator. Students work with a permanent team and typically spend two weeks onboard before swapping with a fresh group of interns.
"We help people to see — then they can move around freely. The train gives people hope," said fourth-year trainee optician Percy Makgwane, 22, a student at the University of Limpopo. "I'd love to work here permanently."
In 2014, Transnet supplemented the first Phelophepa train, which started as a modest three-coach setup in 1994. The name means "Good, clean health" in South Africa's Tswana and Sotho dialects. A second train has been added since.
More than 24 million patients have been treated by the services, dubbed the "trains of hope," since their launch. It is the world's largest mobile clinic. Patients typically are charged 30 rand ($2.30) for a pair of glasses, 10 rand for dental work and 5 rand for prescription medicines.
Each train has 22 permanent employees, 16 security contractors and about 40 students onboard at any one time. The two trains spend nine months a year crisscrossing the country, reaching some of South Africa's most neglected communities.
(

0

)
(

0

)