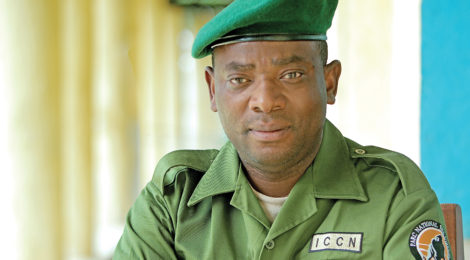 Park Ranger Wins Environmental Prize
BRAND SOUTH AFRICA
A former child soldier in the Democratic Republic of the Congo (DRC) has been awarded an international environmental prize for his work as a park ranger and conservationist in Virunga National Park, Africa's oldest wildlife park.
Rodrigue Katembo won the Goldman Environmental Prize in April 2017 for his work to prevent potentially damaging oil exploration in the park. In addition to mobilizing DRC citizens to protest plans to drill for oil in Virunga, he also worked undercover to expose bribery and corruption of government officials by foreign oil companies.
Environmental research has shown that oil exploration in the park would threaten the habitats of the region's critically endangered gorillas, elephants and lions.
The Goldman Prize, often referred to as the Green Nobel, is an annual award that recognizes grassroots environmental activists in six regions around the world. The prize is awarded by the Goldman Environmental Foundation, based in the United States.
Virunga National Park is home to a quarter of the world's last remaining mountain gorillas; there are fewer than 900 globally. Additionally, the park, which covers more than 5,000 square kilometers across the DRC, Uganda and Rwanda, has several delicate ecosystems, including volcanoes, forests, river and lake systems, and mountain regions.
"The park brings a lot of different kinds of services that are benefiting the community," Katembo told CNN in April 2017. "For instance, you have the protected fisheries where many fishermen are able to sustain their families and are able to generate income."
Katembo and his small but dedicated team have to tackle international poaching syndicates and political instability from various militia groups. Over the past two decades, more than 160 park rangers have been killed by rebels and poachers.
The decadeslong political conflict and civil war in the DRC is something Katembo knows well. As a teenager in 1989, a militia group forced him to become a child soldier. He fought with various groups until 2003, when a brief peace gave him the opportunity to leave that life and follow a lifelong dream of working with wildlife.
(

0

)
(

0

)