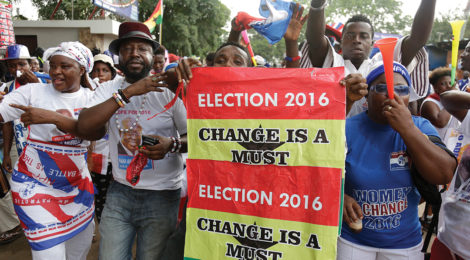 Ghana's Elections are Model for Africa
AFRICA CENTER FOR STRATEGIC STUDIES
On January 7, 2017, Ghana held its seventh presidential inauguration since 1992. It marked the third time the party in power has changed — an unusual event in Africa, where nearly all countries hold elections, but the parties in power almost always remain the same.
Among the continent's 54 countries, only 19 African incumbent leaders from 11 countries have been voted out of office since the end of colonialism. These two feats alone — holding regular elections and changing the party in power — have helped institutionalize Ghana's process of political transition through elections.
Yet, nearly a quarter century after embarking on the path of democratization, uncertainty prevailed before Ghana's December 2016 elections, in which the ruling National Democratic Congress' candidate, John Dramani Mahama, faced his chief opponent, the New Patriotic Party's Nana Addo Dankwa Akufo-Addo, who won. Just six months before the elections, many Ghanaians said that they greatly distrusted the judiciary and electoral commissions — two critical institutions for administrating a peaceful and lawful political transition. Violence had broken out during various electoral processes, and politicians and their affiliates regularly employed incendiary language.
Despite the troubling signals, Ghana's political transition went smoothly. Although political operatives disputed certain election results and accused one another of rigging, all accepted the final result without any violence.
Surveys conducted in July 2016 and October 2016 by the Ghana Center for Democratic Development illustrate the positive change in the Electoral Commission's credibility. In July, 58 percent of Ghanaians rated the commission as prepared for elections, but by October the number had increased to 73 percent. This significant increase in positive perceptions by Ghanaian citizens can be attributed to the commission's moves to improve the voter registry's credibility, implement continuous registration processes and make it easier to vote.
As frustration began to mount due to the election commission's failure to declare a winner two days after the elections, Mahama urged calm and affirmed his faith in the commission: "I want to assure the nation we will accept the outcome of the election whether positive or negative."
Similarly, Akufo-Addo emphasized that "it is important that we remain calm. We have been through this before." These statements were similar to their joint promises in May 2013 that they would abide by the Supreme Court's decision on the winner of the 2012 election, before the court announced its ruling.
(

0

)
(

0

)