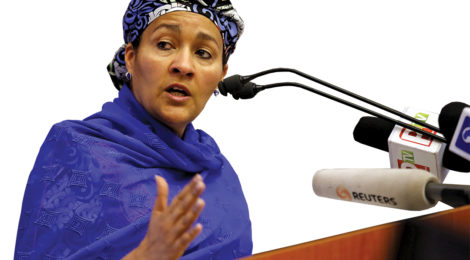 Nigeria's Environment Minister to Play Leadership Role at U.N.
VOICE OF AMERICA
Nigerian Environment Minister Amina Mohammed has been named deputy secretary-general of the United Nations. The appointment made by U.N. Secretary-General Antonio Guterres was part of his pledge to reach gender parity among senior leadership within his five-year term. He also appointed Brazilian diplomat Maria Luiza Ribeiro Viotti as chef de cabinet and Kyung-wha Kang of South Korea to a newly created position as special advisor on policy.
"We must empower youth to participate in and shape the political and economic lives of their countries and communities, to be the agents of peace and development," Mohammed said in her first address in the new position. "Solutions from the past will not, alone, meet the challenges of the future."
As of 2016, 35 percent of the 40,131 members of the United Nations secretariat staff were women, and 17 of the 79 undersecretaries-general, or 21.5 percent, were women.
Before her appointment as environment minister in 2015, Mohammed served as special advisor on post-2015 development planning for former U.N. Secretary-General Ban Ki-moon — a role that ended with the adoption by the General Assembly of sustainable development goals for the next 15 years.
(

0

)
(

0

)