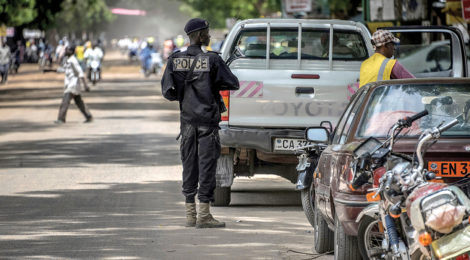 Signs of Progress as Cameroon-Nigeria Border Reopens
VOICE OF AMERICA
The border between Nigeria and Cameroon has been fully reopened for the first time in three years. Officials from the two countries met in the Cameroonian capital, Yaounde, in December 2016 to review security issues and said the reopening was a clear sign of progress in the fight against Boko Haram.
"Only a secured environment can provide [an] avenue for meaningful trade and commercial activities as well as unimpeded exchange of goods and services," said Gen. Abba Mohammad Dikko, head of the Nigerian delegation.
"The unflinching cooperation and support of Cameroon has indeed curtailed the menace of the Boko Haram sect in all its ramifications," he added. "Success against Boko Haram will end movement of refugees across boundaries and create an enabling environment for the return and repatriation of internally displaced persons back to their ancestral lands."
The Boko Haram insurgency began in northeastern Nigeria in 2009, eventually spreading to neighboring Cameroon, Chad and Niger. The conflict has displaced 2.7 million people, according to the United Nations. At least 20,000 people have been killed.
An end to the conflict, while welcome, will present fresh issues, said Professor Saibou Issa, a historian and member of the Cameroonian delegation.
"We know today that thousands of people, especially young men from Cameroon, Nigeria and Chad, joined Boko Haram," Issa said. "As progressively Boko Haram attacks are diminishing, it is maybe time to think about how the states are going to cope with these young people. There is the challenge of managing the vigilantes who are contributing a lot in fighting against Boko Haram."
Cameroon's northern border areas were hit hard by the insurgency. Farming and trade ground to a halt. The area is now slowly returning to life, said Midjiyawa Bakari, governor of the Far North region of Cameroon.
"We have been authorized by the heads of state to open the border between Nigeria and Cameroon, and people are very happy," Bakari said. "Schools have been reopened. We have trucks coming from Maiduguri to N'djamena through Fotokol, Cameroon, and from Cameroon to Nigeria."
Security concerns remain, with both countries warning about Boko Haram's continued use of female suicide bombers, described by officials as the last lashes of a dying monster.
(

0

)
(

0

)