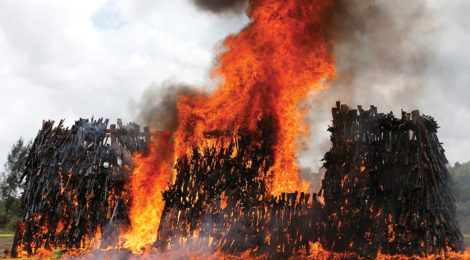 Kenya Burns Illegal Weapons
REUTERS
Kenya set fire to 5,250 illegal firearms as part of a national effort to fight crimes such as cattle rustling, carjacking and terrorism.
The fire destroyed weapons that had been confiscated by law enforcement officials or voluntarily surrendered to agents who were collecting illegal small arms and light weapons.
"Here in Kenya, small arms are implicated in many deaths, in acts of armed violence, among them intercommunity conflicts, cattle rustling, violent crimes and poaching," Deputy President William Ruto said in a speech before the weapons were set ablaze in November 2016.
"Their presence has also intensified the threats posed by transnational crimes such as terrorism, human trafficking, piracy and drug trafficking," Ruto said.
The Somali-based extremist group al-Shabaab, which seeks to overthrow Somalia's government and impose a strict version of Sharia, has carried out regular assaults in neighboring Kenya in recent years in retaliation for Kenya's participation in the African Union Mission in Somalia. Kenya held similar events to burn illegal weapons in 2003, 2005 and 2010.
(

0

)
(

0

)