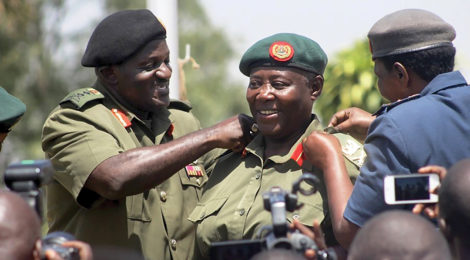 Uganda Makes History with Female General
ADF STAFF
A long-serving officer of the Uganda People's Defence Force has been named the country's first female major general.
President Yoweri Museveni announced in mid-January 2017 that Proscovia Nalweyiso, 62, was promoted to the new rank as part of sweeping changes in the military. She is also the first woman to hold such a rank in all of East Africa.
Maj. Gen. Nalweyiso came to national prominence in the 1986 Bush War, also known as the Ugandan Civil War, which led to Museveni becoming president.
The general, one of 20 children, became active in politics about 1979 while working as a junior teacher and typist at a church. In 1980, as a member of the Democratic Party, she was stunned when the Uganda People's Congress won the elections, keeping President Milton Obote in power. The election, which Nalweyiso felt was rigged, was followed by attacks on Democratic Party members.
She joined the National Resistance Army (NRA) in 1982 as a guerrilla fighter. A year later, the women's wing was formed within the NRA, with Nalweyiso as its first commandant. Four years later, the NRA took control of the country, and she was promoted to captain of a women's unit of the Army.
She has since been a senior advisor on defense issues at the State House and is regarded as a trusted advisor to the president. A mother of four, she believes the Ugandan Army is a good career move for hardworking women in her country.
(

0

)
(

0

)