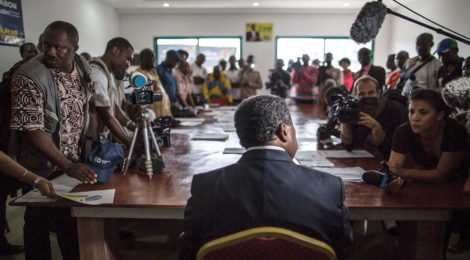 African App Aids Citizen Journalists
MEDIA CLUB SOUTH AFRICA
A new app called Pocket Reporter is aimed at citizen journalists, community journalists for independent publishers and those who want to share their stories with the wider world. Touted as a "news editor in your pocket," it was launched in South Africa in October 2016.
Raymond Joseph, a journalist at Code for South Africa (Code4SA), says developers created Pocket Reporter because many journalists, especially freelancers, do not have access to a news editor.
Pocket Reporter was developed by Code4SA in partnership with the Association of Independent Publishers. Joseph says the partners conducted market research before building the app and tested it again before launching it.
The Pocket Reporter is an easy-to-use tool that helps reporters collect all the information needed, Joseph explains. It makes sure that there are no gaps in the story, gives suggestions for improving content and makes sure that writers ask the right questions.
Since most smartphone users in Africa use Android phones, the app is available on Google Play as a free download. It has a selection of article types, such as crime, sports and news conferences. After selecting a category, the app "coaches" the writer through a series of questions.
If you don't have all the information to answer the questions asked on the app, Joseph says, you can return to the story. "It is saved on your app automatically. You can always go back to add information."
To overcome data costs, no internet connection is needed to use the app. A connection is only needed to send the information via email.
(

0

)
(

0

)