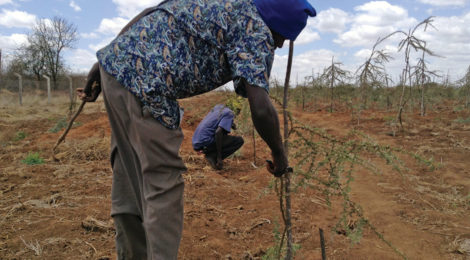 Kenya Plants Tougher Trees to Hold Back Desert
Story and photo by JUSTUS WANZALA/INTER PRESS SERVICE
Faced with growing degradation that is swallowing large swaths of land in arid and semiarid areas, Kenya is working to stop the encroachment of the desert and add trees suited to the climate.
Kenya launched a program in September 2016 targeting 5.1 million hectares of degraded and deforested land for restoration by 2030, said Charles Sunkuli, secretary of the Ministry of Environment and Natural Resources. He added that Kenya is increasing its forest cover from 7 percent to a maximum of 10 percent.
"We have introduced an equalization fund to help communities living in dry and degraded lands eke out a living and participate in rehabilitation initiatives," Sunkuli said. Kenya will apply the project mainly in the country's arid and semiarid areas, which make up 80 percent of the country's land.
Sunkuli said Kenya is implementing a program to promote drought-tolerant tree species such as Melia volkensii to increase forest cover. Officials said that a growing population and conversion of forest into farms has led to unsustainable land use, contributing to degradation and desertification.
At Tiva in Kitui County, eastern Kenya, the Kenya Forestry Research Institute has established a research center to breed tree species ideal for planting in arid and semiarid areas. A tree-breeding project, which started in 2012, gives farmers genetically improved seeds of two species, mukau and acacia.
Mukau timber fetches 100 Kenyan shillings (U.S. $1) per foot. About 400 trees can be grown on one hectare, and when mature, can yield $200,000 to $250,000.
The two tree varieties have been overharvested. Mukau is the equivalent in value to mahogany and preferred by furniture makers, and acacia trees are treasured for charcoal. The aim is to develop fast-growing trees that can be ready for harvest in 15 to 20 years. Some 3,000 mukau trees and 1,000 acacias have been planted on 100 hectares at the Tiva research site. About 2,500 kilograms of seeds have been collected.
Researchers also are exploring breeding varieties from the two species, which can retain leaves for a long period to serve as fodder for livestock such as goats.
(

0

)
(

0

)