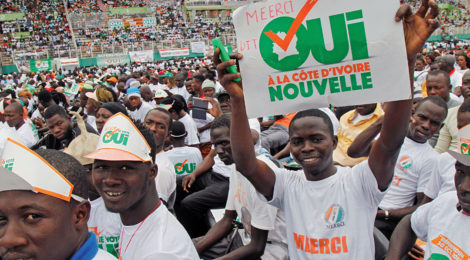 Côte d'Ivoire Signs New Constitution Into Law
VOICE OF AMERICA
Côte d'Ivoire adopted a new Constitution, with hopes it will support the nation's emergence as one of Africa's rising economic stars after years of violent upheaval.
In October 2016, voters overwhelmingly endorsed the new charter, with 93 percent of ballots cast for "Yes" out of an official turnout of just more than 42 percent. The new Constitution was one of President Alassane Ouattara's campaign promises during his re-election bid in 2015. It marks the third Constitution adopted by Côte d'Ivoire since independence in 1960, creating the country's Third Republic.
"The promises of the Third Republic are the promises of peace, stability, equality and modernity," Ouattara said after signing the document.
Côte d'Ivoire's previous constitution, drafted under military rule after a 1999 coup, was at the heart of a decade of turmoil that included two civil wars. In its most controversial clause, it said presidential candidates' parents must both be natural-born Ivorians — a swipe at northerners, many of whom, like Ouattara, have family ties that straddle borders with Burkina Faso and Mali.
The new Constitution scraps that rule, which was used to disqualify Ouattara from a vote in 2000. Now only one parent must be Ivorian. It also creates the position of vice president and a Senate. The president says these new measures will guarantee more political stability.
After six years with Ouattara at the helm, the world's top cocoa producer was on track to be Africa's fastest-growing economy in 2016. Critics, however, denounced the process of drafting the new Constitution and submitting it to a vote as rushed and lacking transparency.
(

0

)
(

0

)