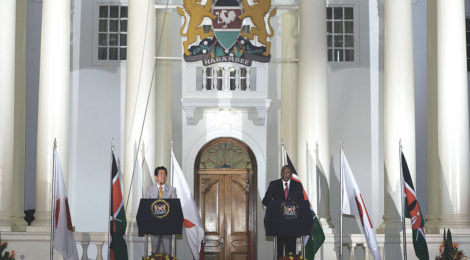 Japan Plans $30B Investment in Africa
AGENCE FRANCE-PRESSE
Japan announced plans to invest $30 billion in African projects by 2018, including $10 billion in infrastructure development. The announcement came at the Tokyo International Conference on African Development in Nairobi, Kenya, in August 2016. Thirty African heads of state attended.
"This is an investment that has faith in Africa's future," said Japanese Prime Minister Shinzo Abe.
This marked the first time that the Tokyo International Conference on African Development was held in Africa. All five previous events were in Japan.
The goal of the conference, organized jointly by the United Nations, the African Union, the World Bank and Japan, is to boost trade and aid to Africa, because Japan hopes that quality will trump quantity in its battle against cash-rich China to create partnerships on the continent. Although Japan already has a well-established presence in Africa, its financial importance to the continent has long been eclipsed by its regional archrival China.
About 70 agreements were expected to be signed at the conference. "The wealthiest countries today, with very few exceptions, got rich by trading with others," President Uhuru Kenyatta said.
Chadian President Idriss Deby, who chairs the African Union, noted that many African nations' economies have been badly affected by falling commodity prices, several conflicts and climate change.
"Our struggle for development cannot succeed without peace, stability and, above all, security," he said.
Deby called on Africa's partners to contribute to a counterterrorism fund set up by the African Union and to help speed up economic growth, reduce poverty and promote better health care.
(

0

)
(

0

)