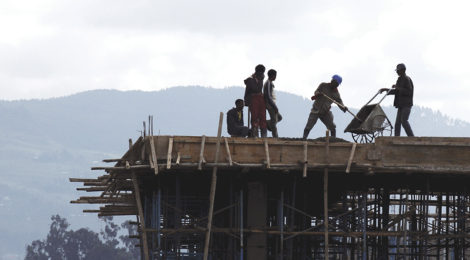 Join to create Jobs for refugees
BBC NEWS AT BBC.CO.UK/NEWS
Britain, the European Union and the World Bank have announced a plan to create 100,000 jobs in Ethiopia to help tackle the migrant crisis.
Two industrial parks will be built in the country at a cost of
$500 million. Ethiopia, which proposed the plan, will be required to grant employment rights to 30,000 refugees.
United Kingdom Prime Minister Theresa May said the project would be a model for how to support poorer countries housing large numbers of migrants. Ethiopia hosts more than 700,000 asylum seekers, mainly from Eritrea, Somalia and South Sudan.
The deal, announced at a United Nations summit on refugees in New York, will be funded by loans from the European Investment Bank (EIB) and grants from the U.K. and the World Bank.
A number of the new positions will be reserved for Ethiopia's growing ranks of young job seekers.
EIB President  Werner Hoyer said Ethiopia is a stopping point for many making their way to Europe, but job opportunities could benefit Ethiopia and the migrant population. "Initiatives and projects like this provide people with a choice to stay closer to home and an opportunity for economic growth as well," Hoyer said.
(

0

)
(

0

)