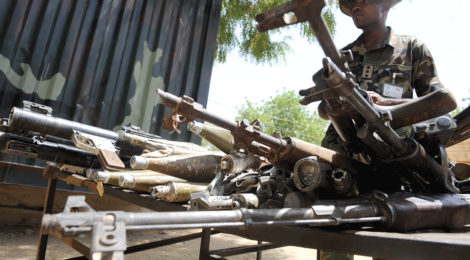 Cooperation Pays Dividends in Lake Chad Basin
When our administration assumed office, our first task was to tackle and defeat Boko Haram. We restructured and re-equipped our Armed Forces. We strengthened cooperation among Lake Chad Basin Commission members and Benin. By December 2015, the gallant armed forces of Nigeria, Cameroon, Chad and Niger had degraded Boko Haram forces and squeezed them into a small enclave of Sambisa forest.
What remains is to dislodge the terrorists from their hideout in Sambisa Forest and safely liberate the Chibok girls and other victims of abduction.
Boko Haram now resorts to hit-and-run tactics, cowardly attacking soft targets, hitting innocent and defenseless civilians, and causing mindless damage to social infrastructure. Meanwhile, coordinated mop-up military operations are in progress supported by intelligence sharing and cooperation with local communities to clean the country and the region of Boko Haram.
Some of our achievements, at bilateral and multilateral levels, include:
• Recovery of all territories occupied by Boko Haram in Nigeria.
• Establishment of special military units by Nigeria, Niger and Chad to prosecute the War on Terror.
• Admission of the Republic of Benin to the group, to strengthen the regional coalition.
• Establishment of the Regional Intelligence Fusion Unit in Abuja to pool intelligence resources.
• Strengthening the security of border regions of member states.
• Setting up the Inter-Regional Coordination Centre, based in Yaoundé, Cameroon, under the aegis of the Gulf of Guinea Commission, to coordinate and disseminate intelligence and security information to all member states.
• Reactivation of the Multinational Joint Task Force with 8,500 officers and men, drawn from Cameroon, Chad, Niger, Nigeria and Benin, with headquarters in Ndjamena, Chad.
These and other achievements would not have been possible without the steadfast support, invaluable contributions and sacrifices of my brothers and presidents of Cameroon, Chad and Niger as well as the Republic of Benin. I am convinced that the great solidarity and good neighborliness demonstrated by all countries in the region would be a model for other regions faced with similar challenges.
As part of our comprehensive approach to addressing the root causes of terrorism and extreme radicalism in the region, we must now articulate a plan for the critical post-conflict development phase. While we work to enhance the provision of humanitarian assistance to the victims of terrorism, we remain focused on efforts to create conditions for the voluntary return of the internally displaced persons and refugees to their homes in peace and dignity.
The long-term development of the Lake Chad Region is crucial to reducing the high poverty rate in the basin, a major factor in the recruitment of terrorists.
Finally, I assure you all that Nigeria remains committed to the global efforts against terrorism which knows no boundary, as is evident from past and recent events.
(

0

)
(

0

)